United Airlines posted a loss of $1.6 billion for the second quarter of the year as the global coronavirus pandemic brought commercial aviation to a near-standstill, decimating passenger demand and forcing the carrier to ground a large portion of its fleet.
Total operating revenue between April and June was down 87% and the airline flew a capacity that was 87.8% lower than the same quarter a year earlier.
The Chicago-based airline says in a regulatory filing on 21 July that the period was "the most difficult financial quarter in its 94-year history".
Still, compared to its peers, the airline says, it made the best of the situation.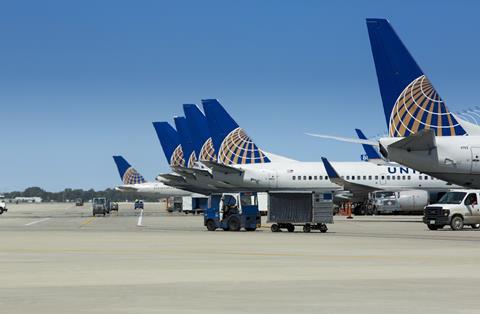 "While this unprecedented crisis has been difficult for our team, we expect United produced fewer losses and lower cash burn in the second quarter than any of our large network competitors," says chief executive Scott Kirby. "We accomplished this by quickly and accurately forecasting the impact that Covid would have on passenger and cargo demand, accurately matching our schedule to that reduced demand, completing the largest debt financing deal in aviation history, and cutting expenses across our business."
"We believe this quick and aggressive action has positioned United to both survive the Covid crisis and capitalize on consumer demand when it sustainably returns," he adds.
The airline says it reduced its operating cost base by 69% during the quarter, and that more than 6,000 employees opted to take voluntary separation plans, helping the company staunch its liquidity bleed.
At the end of the quarter that ended on 30 June, the carrier's cash burn was down to an average of $40 million per day, which includes $3 million it pays in principal and severance expenses. During the third quarter, United expects cash burn to fall further to $25 million per day, with $6 million of that in principal repayments and severance expenses.
Total liquidity as of 20 July was approximately $15.2 billion, with the airline expecting it to be over $18 bilion at the end of the current quarter.
OUTLOOK REMAINS BLEAK
While United hopes to see an incremental improvement in the third quarter, the outlook for the industry remains bleak. Capacity will be down by almost two thirds compared to the same period a year ago and the airline says it will be some time until the mood changes and passengers return.
"[United] expects demand to remain suppressed until the availability of a widely accepted treatment and/or vaccine for Covid-19," the company says.
During the second quarter, United says it received a $3.2 billion in a grant and $1.3 billion unsecured loan from the US government through the CARES Act. The legislation, which Congress passed in March, earmarked $58 billion in government aid for US airlines, including about $29 billion specifically designated to support aviation workers' wages, salaries and benefits.
In return for the funds, the companies committed to no involuntary furloughs or layoffs until the end of September.
With that date fast approaching, and the sector's recovery proving to be slower than initially expected, United is making plans for a post-coronavirus reality in which air travel will continue to suffer.
On 1 July the airline had said it would reinstate 25,000 flights during the month of August, tripling its schedule size from June, but had to backtrack just days later after spikes in infection rates once again scared away summer leisure travellers. The industry had been banking on servicing pent-up travel demand after months of lockdowns, but new restrictions including strict quarantine measures for inbound and returning passengers in New York City and Chicago put the brakes on those plans.
On 8 July, United warned 36,000 employees, or 45% of its total staff, that their jobs may be in danger as long as passengers stay away from air travel.
Pilot and flight attendant unions have called on the government to extend the government's payroll support programme into early 2021 in order to give the sector more time to recover. That said, a full recovery to 2019 levels is now expected to take up to three years.
United will give further detail on its second quarter results and outlook for the rest of the year on an analyst call on 22 July.