United Airlines plans to hire hundreds of pilots this year as the airline begins what it sees as a sustainable recovery after a coronavirus-plagued year.
The Chicago-based carrier becomes the first of the US major legacy carriers to announce it is resuming pilot classes.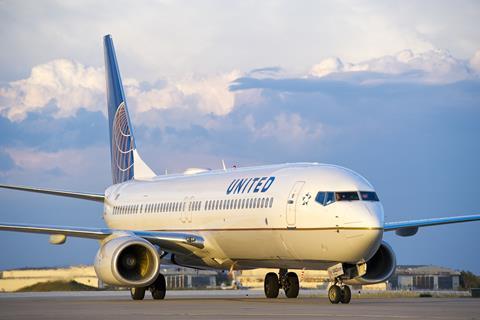 "With vaccination rates increasing and travel demand trending upwards, I'm excited to share that United will resume the pilot hiring process that was halted last year," Brian Quigley, United senior vice-president of flight operations, says in a note to staff on 1 April. "We'll start with the approximately 300 pilots who either had a new-hire class date that was cancelled, or who had a 2020 conditional job offer."
While upbeat, Quigley added a caveat: "The number of new pilots needed will be dependent on our recovery from the Covid-19 pandemic".
Last year, after the coronavirus almost completely choked off air transport, airlines encouraged staff, including pilots, to take advantage of generous voluntary leave programmes and early-retirement schemes. Thousands left the industry, and may not return.
Last week, United said it is upping its international flying to 46% of its pre-Covid schedule, resuming flights to Tel Aviv, Tokyo and European cities including Milan, Rome, Amsterdam and Munich. On 25 March, it detailed increases in flights to Latin America, which will bring United's capacity to that region to more than 2019 levels.
Domestically, the airline plans to launch numerous new point-to-point routes in May to take advantage of consumers' pent-up demand to move freely after a year of lockdowns and other travel restrictions. United has said it will operate 52% of its pre-pandemic domestic schedule in May.
Airline executives from numerous US carriers have said in the past weeks that customers are finally returning in greater numbers as the vaccination campaign in the USA gains traction.
United will report first-quarter earnings results on 20 April.