United Airlines is waiving fare difference charges for international passengers who choose to travel to the United States before the nation's blanket coronavirus testing requirement begins on 26 January.
Chicago-based United says on 13 January the move will allow passengers more leeway in rebooking flights should they wish to travel prior to the date the new policy takes effect.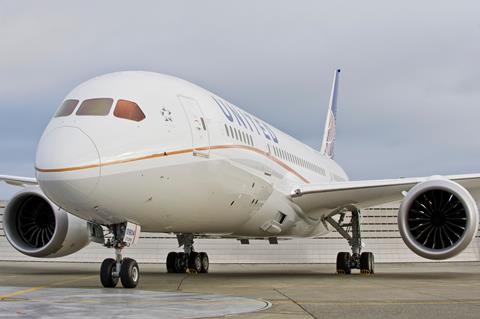 "United will waive the fare difference for customers rebooking international tickets originally purchased on or before Jan. 12, 2021 for scheduled travel to the US through Feb 15, 2021," the airline says. It adds that customers must choose to rebook their travel to begin on or before 25 January.
Late last year, major US carriers eliminated booking change fees on most tickets, but this is the first time that they are expanding the free rebooking options to include fare differences.
On 12 January, the US government said it will require inbound international air travellers to provide a negative coronavirus test result that is less than 72h old before entering the country.
The Centers for Disease Control and Prevention (CDC), the national public health agency, said airlines will be responsible for ensuring that each passenger has either paper or electronic proof of the negative result prior to boarding aircraft bound for the USA.
The country joins Canada and numerous other nations in introducing the widespread pre-departure test requirements, as new mutations of the coronavirus are tearing around the globe. Some airlines, like United, had been offering customers a pre-departure testing service prior to flights to specific overseas destinations which had imposed this requirement earlier.
On 28 December, the US mandated testing for all passengers returning to the country from the United Kingdom, where a particularly virulent strain of the virus had been spreading. In the meantime, that mutation has also been detected in various locations in North America.
International travel is still at a fraction of the level at which it was a year ago due to ongoing quarantine requirements and other mobility restrictions designed to stop the spread of the highly contagious virus.
According to Johns Hopkins University, as of 13 January, more than 92 million people around the world have contracted the virus, and it has resulted in almost 2 million deaths.