United Airlines is on track to stop burning through cash by the end of March, according the company's chief executive, who struck a remarkably positive tone during a 15 March investor conference.
"United expects our core cash burn to be positive in March," CEO Scott Kirby says during the event, hosted by bank JPMorgan. "We also expect core cash burn to be positive going forward."
"Our long term [prediction] has been consistently optimistic," Kirby adds.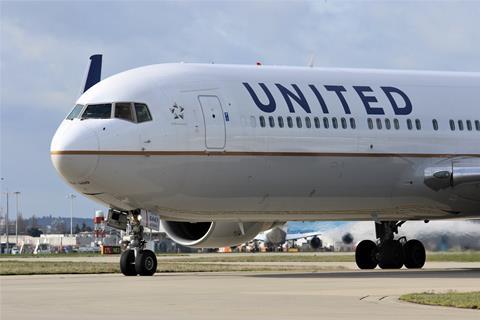 He clarifies United remains "far" from returning to profitability and faces the long-term challenge of paying down a considerable amount of debt acquired during the pandemic.
United held nearly $25 billion in long-term debt at the end of 2020, up from $13 billion one year earlier.
The Chicago-based airline, like its peers, has haemorrhaged cash in the last year. Last spring, United was burning about $40 million in cash daily, though it slowed outflows to about $19 million daily in the final three months of 2020.
"The company now expects core cash flow for the month of March 2021 to be positive if the current trajectory of bookings improvement is sustained," United says in a 15 March securities filing. "If the current rate of improvement in bookings continues, the company expects core cash flow to be positive moving forward."
United defines "core cash flow" to be cash generated from operations minus investment and financing expenses, the filing says.
During JPMorgan's conference, Kirby insists United will be particularly well positioned to benefit from recovering air travel demand because, unlike competitors, it did not retire widebody jetliners amid the pandemic.
Thanks to deliveries of new jets in the last year, United actually has "more widebody aircraft than when the pandemic began", Kirby says.
United's fleet includes 210 widebody aircraft (including 96 in storage), up from 204 jets one year ago, according to Cirium fleets data.
The airline intends to "accelerate" deliveries of narrowbody jets in the coming years, Kirby notes. The carrier holds orders for 50 Airbus A321neos and 179 Boeing 737 Max, Cirium shows.
Kirby tells investors United will continue working to improve its standing among customers by investing in its product and by not reinstating reservation change fees.