United Airlines says its second quarter results "largely exceeded original expectations" as business and international travel began to make a stronger return in addition to leisure travellers' run on tickets for the beginning of the summer holiday travel period.
The Chicago-based carrier says on 20 July that it expects "continued gains as more businesses return by end of summer and into 2022, with a full recovery in demand anticipated by 2023."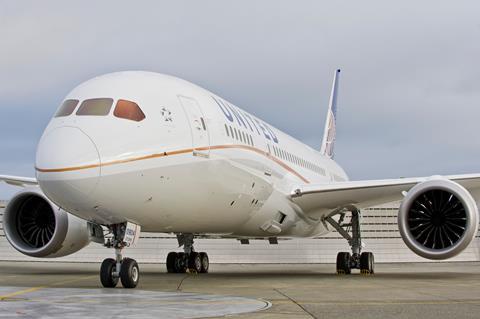 The airline says that in the three months that ended in June, it narrowed its total quarterly loss to $434 million, from a loss of $1.6 billion during coronavirus-plagued 2020.
Without the government aid it received, the airline would have posted a second quarter loss of $1.3 billion.
Total revenue during the second quarter of 2021 was $5.5 billion, up from $1.5 billion during the same period a year ago, but still down 52% from 2019.
The airline expects to reach pre-tax profitability in the third quarter, which would be the first three-month period since 2019 during which the company made a profit. United says it expects the fourth quarter of 2021 to also be profitable.
"Thanks to the professionalism and perseverance of the United employees who have worked so hard to take care of our customers through the pandemic, our airline has reached a meaningful turning point: we're expecting to be back to making a profit once again," says chief executive Scott Kirby.
"As we emerge from the most disruptive crisis our company has faced, we're now focused squarely on our 'United Next' strategy that will transform our customers' on-board experience and help fulfil United's incredible potential," he adds.
In the past months, United has announced numerous major investments in new aircraft and upgrades to older aircraft in order to improve the customer experience, which the airline has dubbed "United Next". In addition, it has ordered all-electric air taxis from Archer Aviation, and regional aircraft from Sweden's Heart Aerospace. Kirby also in June said that the airline is investing in supersonic technology with Denver-headquartered Boom Supersonic, ordering 15 examples of the company's faster-than-sound "Overture" aircraft.
The airline says in the second quarter of 2021 it operated 54% of the capacity it offered in the pre-coronavirus second quarter of 2019, and that it expects that number to rise to 74% percent in the third quarter. United adds it will fly about 80% of its full schedule in July 2021 compared to July 2019.