US president-elect Joe Biden after his inauguration on 20 January plans to enact a federal mandate for interstate travellers on aircraft, trains and buses to wear masks after the Trump administration refused petitions from both airlines and pilot unions to order a mask rule.
A federal ban would give more weight and enforcement to the mask-wearing requirements of airlines and other businesses, minimising the risk of infection as vaccines become available to eventually allow mass gatherings to become safe again. While most air travellers comply with mask rules, US airlines have banned hundreds of passengers for various unruly behaviour including refusal to wear masks since the coronavirus pandemic's initial lockdowns in March 2020.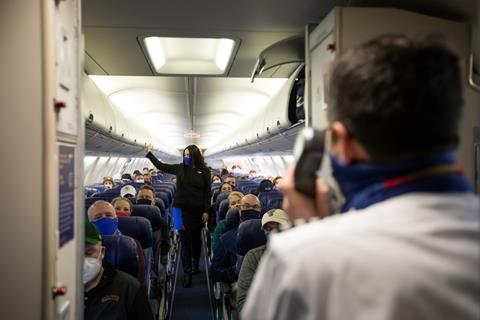 In response to this "disturbing increase in incidents", the US Federal Aviation Administration says it will no longer seek civil penalties or warnings to address unruly passengers, promising "stiff penalties, including fines of up to $35,000 and imprisonment" through 30 March.
"The agency will pursue legal enforcement action against any passenger who assaults, threatens, intimidates or interferes with airline crew members," FAA administrator Steve Dickson said in a press release on 13 January.
Despite pleas from airline workers represented by the AFL-CIO labour federation, the US Department of Transportation in October refused a petition to mandate mask wearing on airline flights, stating "there should be no more regulations than necessary". Flight crews insist that a federal mandate to enforce airline mask-wearing rules is necessary to get passengers to comply, Allied Pilots Association union spokesman Dennis Tajer tells Cirium.
"I can't ask you to leave the airplane if you are not compliant, unlike other public venues," says Tajer, a pilot for American Airlines. "We've called for it for many, many months. The airlines have stepped up and done everything they can.
"Most everyone is very compliant, and some people forget with the mask dropping below their nose while they are talking. But there is a big difference between a policy and a federal mandate. A company policy doesn't carry as much weight. When you use the words 'federal mandate' it gets attention."
Alaska Airlines tells Cirium it banned 14 passengers from its business on 7 January who "were non-mask compliant, rowdy, argumentative and harassed our crew members" during a flight to Seattle from Washington DC.
"We have now banned 302 passengers for violating our mask policy since it went into effect on August 7 2020," Alaska says.
Delta Air Lines and American Airlines also had incidents with Trump supporters who were travelling home in the days following the insurrection at the US Capitol on 6 January. Even though Trump has begun to wear masks in public his supporters sometimes refuse to do so after the president spent months downplaying or mocking the seriousness of the global pandemic. Some Trump supporters decry mask requirements as "tyranny" that deprives them of their personal liberties.
A broader rule on mask wearing is expected to follow this stricter FAA policy issued during the final days of the Trump administration. Signing a federal mask mandate will be among President-elect Biden's first acts in office, he said in a speech on 8 December. Biden says that he plans to use executive power "to require masks where I can, like federal buildings and interstate travel on planes, trains and buses" for at least 100 days.
"I'll be working with governors and mayors to do the same in states and cities," Biden said. "It's not a political statement – it's a patriotic act."
Biden discussed options to increase mask wearing throughout the presidential campaign but has avoided specifics including possible penalties for refusing to obey state or federal mask requirements.
Having a federal rule that specifies procedures and penalties for not wearing masks would "take the pressure off" flight crews, Tajer says, because it would remove "gray areas" by establishing norms. During flights Tajer says airline crews and attendants "try to de-escalate" when unruly customers refuse orders, but they make it known that law enforcement could be waiting at the airport gate when the aircraft lands.
Without specifically requesting a federal mask rule, the US industry group Airlines for America (A4A) tells Cirium "we look forward to collaborating with the new administration to restore travel in a manner that prioritizes the safety and well-being of travelers and employees".
SECURING AIRLINE RECOVERY
A federal mask requirement is increasingly urgent as airlines have resumed selling middle seats on flights after months of minimising capacity in cabins, says Tajer, whose union represents pilots at American. The tenuous recovery of air travel relies on a safe workspace for flight crews and flight attendants, while passengers need to feel safe enough to book more trips through airlines, he adds.
"We have pilots and flight attendants who have become infected at a lower rate than the general population but having a federal mandate on masks would show us that you have our back on safety," says Tajer, who contracted and survived a coronavirus infection in October.
American orders airline workers to isolate for two weeks if they test positive for coronavirus and only allow them to resume flight after they test negative, says Tajer, adding that he became infected off duty while getting takeout near his home. After nursing a moderate head cold and fatigue he returned to pilot duty three weeks after his infection, testing negative before his previously scheduled shift.
State and federal rules could also enforce consistent public health policies at airports, Tajer says, to minimise the risk of infection at locations such as jet bridges that lead from gates to aircraft, where long lines of passengers are not protected by the cleansing and ventilation of cabin air filters.
"Having one set of rules during this epic time is important," he says.
Airlines and health officials are increasingly wary of a more contagious variant of coronavirus first diagnosed in the UK that has already been detected in Colorado and Maryland. The US Centers for Disease Control and Prevention ordered that starting 26 January, passengers on every international flight entering the USA must give airlines a negative coronavirus test within 72 hours of their departure. The CDC also recommends that international travellers get tested three to five days after arrival in the USA and self-quarantine for seven days upon arrival.
Travellers are often required to pay the costs of these tests, and various quarantine rules can complicate travel plans. Air Canada and WestJet have criticised the Canadian government for instituting similar mandatory testing requirements, claiming they have led customers to cancel flights.
Testing for coronavirus is enabling a safer and tenuous recovery in air travel but those measures cannot contain the spread of the pandemic without mask wearing in public.
Bookings on US airlines declined while cancellations spiked during the fourth quarter amid the rise of new daily infections of coronavirus in the USA, which have reached record highs almost every week since October.
Airlines point to studies by Harvard University and the US Department of Defense that indicate aircraft cabins are safer than most indoor locations, but only if passengers wear masks and allow the air filtration to safely cleanse the air.
A lack of public safety confidence is slowing the recovery of domestic passenger travel in the USA, which was down 58% year on year during the first week of January compared with pre-pandemic levels, while the average US airline load factor was 55%, A4A reports.
"Carriers have been forced to cut flights and currently are burning $180 million in cash every day just to stay in operation," A4A states.
Faced with an unprecedented travel downturn, US passenger airlines represented by A4A ended 2020 with around 370,000 full-time workers, down from the 460,000 people employed in March. The broader US economy is slowly recovering after losing 22.2 million jobs since March but has still not regained 10 million of those jobs, the Bureau of Labor Statistics reports on 14 January.
Businesses across the world are relying on newly approved vaccines to inoculate millions of people against coronavirus so mass gatherings can once again become safe and masks can eventually be set aside. Biden has said his incoming administration aims to "help get at least 100 million Covid-19 vaccine shots into the arms of Americans in 100 days" following his inauguration.
This analysis is written by Tom Risen, part of Cirium's North American reporting team