US airlines are warning that exploding coronavirus case counts across the country have sparked a new wave of cancellations which will negatively affect their business in the current quarter, including expectations of higher-than-previously-forecasted cash burn.
In separate regulatory filings, Delta Air Lines, Spirit Airlines and American Airlines all say that they have seen a decline in bookings as a third spike in infections grips the continent. That's leading them to warn investors that the industry's recovery may have stalled for the moment.
While many potential travellers followed public health officials' advice and stayed home for last week's Thanksgiving holiday long weekend, the Transportation Security Administration (TSA), on 25 November still notched its highest daily passenger count since March.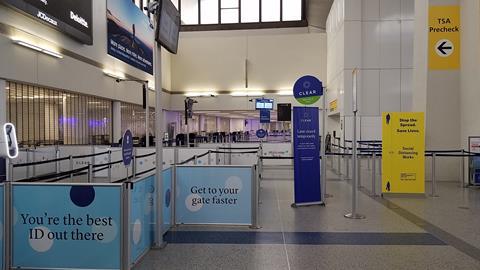 The agency, which is responsible for security at about 450 US airports, saw almost 1.1 million people pass through checkpoints on what is usually the most-travelled day of the year. That's only about 40% of the number of a year ago, but still sharply higher.
In a note to employees on 3 December, Delta chief executive Ed Bastian says the business environment for the airline remains "volatile". Though some revenue is coming back, the fourth quarter will be at just 30% of the same period a year ago, and the carrier's spending will be higher than earlier estimated.
"We've always said this was going to be a choppy recovery," he writes. "Like others in the industry, we've seen some slowing of demand and forward bookings as Covid cases have risen across the US."
That slowdown will likely result in a $2 million increase in average daily cash burn, with the airline now expecting it to average around $14 million daily for the quarter, rather than the $10-$12 million daily it had estimated two months ago. Still, Bastian says the airline remains on track to reach break-even "in the spring".
Amercan on 4 December also reports a decline in bookings due to acceleration of the pandemic.
"Following a strong start to the fourth quarter of 2020, rising Covid-19 case counts and associated travel restrictions in the immediate period leading up to the Thanksgiving holiday have resulted in a slowing of net bookings growth, which has persisted into December," the Fort-Worth-based carrier writes in a regulatory filing.
"Due to the slowing of demand and forward bookings referenced above and modestly higher fuel prices, the company now expects its fourth quarter 2020 average daily cash burn to come in at the high end of its previously forecasted range of $25-$30 million per day."
Low-cost carrier Spirit Airlines, based in Miramar, Florida, says in a regulatory filing on 3 December that its daily cash burn will be around $2 million, roughly unchanged from earlier estimates. In the third quarter it reported an average daily cash burn of $2.3 million.
Still, the carrier says it "continues to expect the recovery to be choppy and difficult to accurately predict".
"Beginning with the period leading up to the Thanksgiving holiday, rising Covid-19 case counts have resulted in a deceleration of bookings and an uptick in cancellations."
The no-frills airline, which specialises in carrying winter-weary passengers from the northern part of the country to sun destinations during the colder months, says it has seen a "deceleration of bookings and an uptick in cancellations" as well as "significant pressure on ticket revenue per passenger flight segment".
Chicago-based United has not updated guidance, but in a 19 November note said it expects average daily cash burn during the quarter to be between $15-20 million, plus $10 million daily in severance and debt payments.
WEARY, WARY PASSENGERS
Trade organisation Airlines for America (A4A) had earlier said it expected about 39% fewer passengers will travel by air for this year's Thanksgiving period after analysing capacity from its member airlines. Last year, the airlines carried 31.6 million people over the 12-day period around the holiday.
The US holiday is celebrated on the fourth Thursday in November – this year that fell on the 26th – and is traditionally the busiest travel weekend of the year in the USA. Many people take additional days off, stretching the holiday into a longer break.
But a week before the holiday, the US Centers for Disease Control and Prevention (CDC) sent out a strongly-worded recommendation that people refrain from travelling in order to mitigate the spread of the virus.
Airlines have said passengers are tending to make travel plans closer to the date of departure, in order to minimise the risk of those plans being disrupted by developments in the global pandemic. Another factor likely influencing customer travel behaviour is an uneven patchwork of testing and quarantine requirements and other travel restrictions, coupled with the complexity of planning around those requirements.
Recent news of up to three safe and effective vaccines has bouyed the mood, and all carriers have said they anticipate that when customers have access to innoculation, likely by the middle of 2021, demand will once again rise and cost pressure will ease.
"While it will take months for a vaccine to be broadly distributed, it's a clear sign of light at the end of the tunnel," Delta's Bastian says. "Widespread vaccinations among our customers and our employees will be essential to Delta's sustained recovery and the start of our rebound."