Spirit Airlines is expecting a decision from the US Department of Justice (DOJ) on its pending acquisition by rival low-cost airline JetBlue Airways within the next 30 days.
Ted Christie, Spirit's chief executive, disclosed an updated timeline on the potential $3.8 billion deal – which would dramatically alter the highly competitive discount carrier market in North America – during the company's fourth quarter earnings call on 7 February.
"We are now waiting to see if the DOJ files suit to block the deal or allows us to proceed," Christie says. "We anticipate hearing from the DOJ in the next 30 days or so and that's really all we have to say on that topic for now."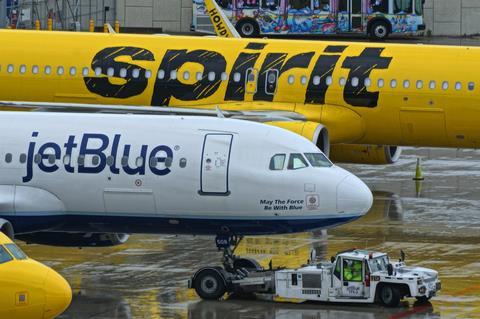 On 19 October 2022, Spirit's shareholders voted to approve the company's acquisition by JetBlue, which Christie called "an important step forward on our path to closing a combination that will create a compelling low fare challenger to the dominant US carriers".
Approved by Spirit's board of directors on 28 July 2022, the deal calls for New York-based JetBlue to buy Spirit – based in Miramar, Florida – by the first half of 2024.
But the acquisition still needs approval from federal antitrust regulators, as it would eliminate a low-cost carrier from the market and position the JetBlue-Spirit combination as the USA's fifth-largest airline behind American Airlines, Delta Air Lines, Southwest Airlines and United Airlines, JetBlue chief executive Robin Hayes said in July.
The deal was highly scrutinised during trial proceedings last year in Boston, where American Airlines and JetBlue defended themselves against a DOJ lawsuit seeking to unwind their "Northeast Alliance". DOJ lawyers argued such a tie-up would violate federal antitrust law, especially in light of JetBlue's proposed acquisition of Spirit.
Meanwhile, Spirit lost $271 million during the fourth quarter of 2022, compared with an $87 million loss during the same three months of 2021, as operating expenses surged and the carrier struggled with its on-time performance and aircraft utilisation.