The US Department of Transportation (DOT) has fined ultra-low-cost carrier Spirit Airlines $350,000 for mischaracterising passengers who were involuntarily denied boarding on overbooked flights as "volunteers" and then under-compensating them.
The DOT also says on 19 June that Spirit did not tell many of these "volunteers" that they could receive cash in lieu of travel vouchers.
The agency says the violations at the Miramar, Florida-based carrier took place between January 2017 and June 2018.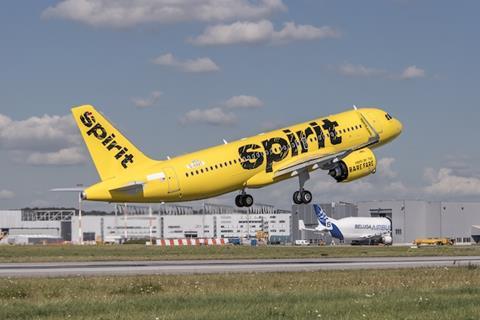 "We determined that in oversale situations, Spirit would first solicit volunteers to give up their seats in exchange for a future travel voucher, re-accommodation on Spirit's next available flight or a flight on another airline, and hotel accommodations, if needed. If there were not enough volunteers, Spirit would then deny boarding to passengers involuntarily based on time of check-in," the agency writes in its order.
These passengers were compensated and, if possible, re-accommodated on other flights. Spirit referred to this as the "volunteer option", and customers were forced to sign an "acknowledgement form" stating so.
The ruling came in response to passenger complaints to the department's office of aviation consumer protection, and Spirit was found to have had "a pattern of non-compliance with the compensation scheme".
The DOT's ruling includes a $110,000 credit to Spirit for the airfare purchased on other airlines during the period to accommodate guests that could not be re-booked on Spirit flights, making the effective fine $240,000.
Spirit says on 19 June that it has "made appropriate changes to [its] processes and compensation offerings long since this period of review".
In May, Spirit Airlines reported an operating loss of $58 million during its first quarter, with cash burn at about $4 million per day as most of its fleet stayed grounded due to the coronavirus pandemic.