The US Department of Transportation (DOT) has given start-up low-cost airline Breeze Airways the green light to begin operations.
Breeze, headquartered near Salt Lake City, Utah, has been granted a "certificate of public convenience and necessity" and to carry passengers, freight and mail on up to 22 aircraft on scheduled routes, the DOT says on 10 March.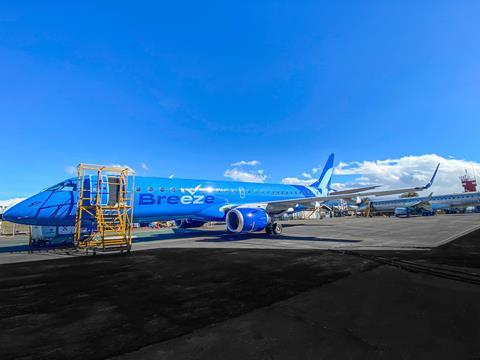 The low-cost carrier, founded as "Moxy" in 2019 by serial aviation entrepreneur David Neeleman, had initially been planned to launch in 2020. Those plans were put on hold as the coronavirus tore around the world early last year, leading to lockdowns and other travel restrictions that fed a dramatic decline in demand. Now, Breeze expects to begin flying before the summer travel season as the US vaccine roll-out inspires more and more potential customers to return to air travel.
The airline will focus on the leisure market segment, and aims to connect secondary cities between which no airlines fly direct. Breeze has not published a schedule.
In its start-up phase, Breeze will be leasing 15 Embraer 190s from Nordic Aviation Capital. It also has also signed a sale-and-leaseback deal with Voyager Aviation for five Airbus A220-300s. Brazil's Azul, another company founded by Neeleman, will sub-lease some of its Embraer 195 jets to Breeze.
This year, Breeze has taken delivery of two E190 aircraft from Nordic Aviation, and one E195. According to Cirium fleets data, it has 60 A220-300s on order with Airbus.