US pilot union Air Line Pilots Association, International (ALPA) is protesting Wizz Air's application to fly to the USA, claiming the Hungarian carrier has used "a toxic culture of reprisal" to intimidate crew and that it ignores issues such as fatigue and illness that could compromise safety.
In a letter to the Department of Transportation (DOT) on 8 February, ALPA requested the DOT defer action on Budapest-based Wizz Air's application for an air carrier permit for charter and cargo operations until it has consulted with European aviation authorities.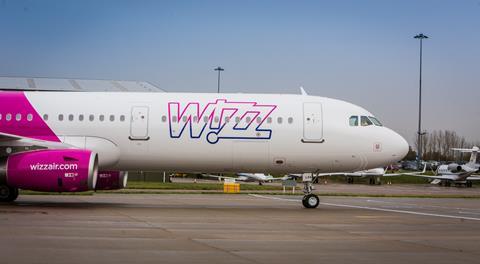 "Wizz Air is an anti-union, foreign air carrier that lacks a strong safety culture that now wants to fly to America," says ALPA president Joe De Pete on 11 February. "We're calling on DOT to work to ensure labour protections are in place, consistent with the Biden Administration's strong support for workers' rights."
"The US has the safest air transportation system in the world and ALPA intends to keep it that way," he adds.
In the letter to the DOT, ALPA highlights the carrier's "zero-tolerance policy for unions, assaulting them through public warnings, retaliatory terminations for attempting to organize, and refusals to comply with court orders to reinstate unlawfully terminated employees".
Wizz allegedly "targets for dismissal 'bad apples' who refuse to fly overtime, or when sick, or on their days off. Its 'Wizz culture' – the opposite of a safety culture – has sown fear in the pilot ranks, giving rise to concerns among European pilots for flight safety", ALPA writes.
ALPA also points to the company's practice of subcontracting flight crew "or 'rented pilots' in Wizz's parlance" who work alongside pilots employed by Wizz but reportedly earn less, have inferior terms of employment, and can be dismissed at any time.
It's not the first time that Wizz has come under fire for its business practices. Earlier this week, Danish pension fund AkademikerPension said it would be selling DKr22 million ($3.4 million) of shares in the company over concerns Wizz has refused to engage in collective bargaining with employees in several countries, and that its behaviour is "in conflict" with labour rights.
The airline has previously been criticised over its union position by the European Transport Workers' Federation, notably after chief executive Jozsef Varadi, in a June 2020 interview with Swiss publication AeroTelegraph, was quoted as saying that unions were "killing the business" – and that Wizz Air's response to unionisation was to use its flexibility to close bases and "move on".
AkademikerPension similarly referred to this comment in laying out its decision.