A US pilot union has called SkyWest Airlines' planned cancellation of flights to 29 secondary cities "an egregious miscarriage" of the federal government's nearly $2 billion in financial aid to the carrier during the coronavirus pandemic.
In a 21 March letter to transportation secretary Pete Buttigieg, the Air Line Pilots Association, International (ALPA) says the St. George, Utah-based regional airline's request earlier this month to cut the routes – later denied by the Department of Transportation (DOT) – is an "outrageous affront" to taxpayers and other stakeholders who made sacrifices during the global health crisis.
SkyWest says the USA's current drastic pilot shortage necessitates the flight reductions.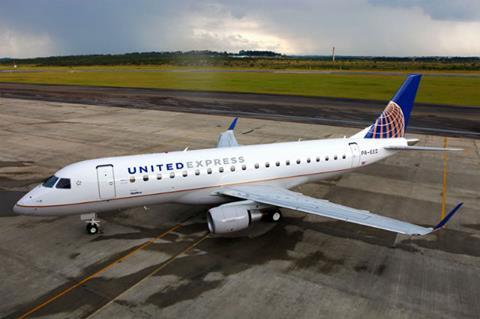 "SkyWest Airline's recent filing… in which it indicated its intent to cut flights to 29 Essential Air Service (EAS) cities within 90 days, reflects an egregious miscarriage of the intent of Congress when it provided the airline with nearly $2 billion in support," the letter reads. "It also reveals an arrogance that only the most grasping corporate executives could possess."
In its letter, the ALPA notes that SkyWest had applied to the DOT for other EAS routes just a month prior.
"The airline's blatant attempt to cherry-pick certain EAS communities over others exposes not a pervasive staffing issue but an intentional decision to prioritise lucrative markets," the union says.
The carrier did not immediately respond to a request for comment.
Banning SkyWest from cutting the routes on 11 March, the DOT said the carrier must "continue the level of service required under the series of orders listed below until the conclusion of this EAS selection case". The government is also requesting proposals from other airlines that might be interested in providing that EAS by 11 April.
"Basic EAS requirements guarantee a minimum of two round trips a day, six days a week, to a large- or medium-hub airport," the government said. "SkyWest's proposed termination of service would cause all 29 communities to be left with no EAS at the conclusion of the 90-day hold-in period, therefore, the department is required by [regulations] to prohibit SkyWest from terminating such service at the end of its 90-day notice period on June 8 2022."
US airlines, especially regional carriers, have been struggling to hire enough pilots as the industry recovers more quickly than expected following the Covid-19 crisis. The shortage comes after thousands of pilots took early retirement packages during the coronavirus-driven downturn, leaving many empty seats on flightdecks across the industry.
High barriers to career entry – including an FAA-mandated 1,500h minimum flight-time requirement – and training backlogs are creating issues for the industry that are not easily or quickly solved. Management consultancy Oliver Wyman says it expects pilot turnover at the regional carriers to be 40% this year, about three times normal levels.