ExpressJet Airlines, a US regional carrier that ceased operations in September, has requested to resume scheduled service under its own brand.
In a filing with the Department of Transportation (DOT) on 15 April, the Atlanta-based carrier says it plans to fly point-to-point routes to underserved cities that have lost air service "as a result of US airline industry consolidation and Covid-19-driven route reductions".
ExpressJet's fleet includes a single leased Embraer ERJ-145 with tail number N844HK, a 17-year-old airframe with 50 seats that is currently in storage, according to Cirium fleets data. It plans to expand to 10 of the type in the next 12 months, the filing says.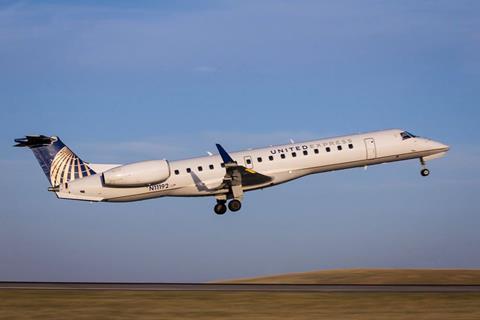 "ExpressJet intends to resume operations… as an independent carrier at small and mid-size communities, initially on routes with an average stage length of approximately 540 miles using EMB145 aircraft in a single-class configuration," the airline writes.
The carrier expects to spend $60.4 million in its first year of operations, beginning in May. It anticipates carrying 400,000 passengers during that year, and ramping up to 261 employees. ExpressJet aims to operate 1,500 flights monthly by April 2022.
The filing reveals no route details. The airline generated revenue of $187 million last year, down from $369 million in 2019.
ExpressJet, which flew exclusively on behalf of United Airlines as United Express, said in August 2020 it would cease operations on 30 September and lay off most employees. The move followed United's decision to consolidate ERJ-145 flying with Cleveland, Ohio-based CommutAir. ExpressJet had no other airline customers.
Six months earlier, in February 2020, United had ended its relationship with Trans States Airlines, another regional affiliate that operated ERJs. Trans States has since stopped flying.
In late 2020, ExpressJet worked to return 130 aircraft and related equipment and engines to United. It finalised a new business plan in January and now has funds needed to re-launch under its own brand, the filing says.
ExpressJet is 100% owned by ManaAir, of which United owns 49.9%.
United "is aware that ExpressJet is seeking DOT approval to resume scheduled operations as an independent carrier and has advised that it has no objections to ExpressJet seeking such approval", ExpressJet says.
A third US regional carrier, Compass Airlines, also ceased operations last year.