In what SkyWest Airlines' chief executive Chip Childs called a "noisy" fourth quarter of 2022, the regional US carrier lost $47 million, compared with a $4 million profit in the same three months of 2021.
Revenue fell 12% as St George, Utah-based SkyWest – which contracts with Alaska Airlines, American Airlines, Delta Air Lines and United Airlines – generated $681 million in the fourth quarter, compared with $777 million in the three months ending 31 December 2021.
"This quarter's $96 million year-over-year decrease in revenue consisted of a combination of a $4 million net reduction in contract and prorate revenue and a $92 million reduction as a result of revenue deferrals," the airline said on 2 February.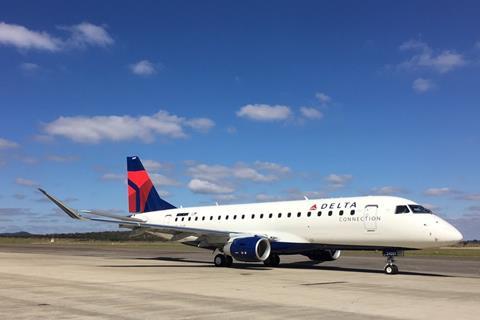 SkyWest posted a $73 million profit for the full year of 2022, compared with $112 million in 2021. The carrier reports generating $3 billion in revenue for the year, up from $2.7 billion in 2021.
"Despite the noise in the fourth quarter, I want to point out that over the past year we have set ourselves up to find them to be a fundamentally different and better company," Childs said during the airline's fourth-quarter earnings call on 2 February. "We've done this by focusing on the core areas of our business that will help us set up for growth in 2024 and beyond and ensure we have a solid, sustainable future."
Seeming to allude to the catastrophic performance of Dallas-based Southwest Airlines during peak holiday travel in late 2022 – which stemmed from a breakdown of the airline's crew-scheduling software – Childs said a focus in 2022 was "ensuring that we have the resources, processes and systems in place to run the most reliable operation and to mitigate negative impacts on our people and our customers".
"We also remain transparent with our partners about our constraints and are disciplined in ensuring we deliver on our commitments," he adds. "As we've seen throughout the industry, over-commitment without the ability to execute is a recipe for disaster."
SkyWest says it transported some 2 million passengers between 16 December and 2 January. "I can proudly say our teams delivered some of the strongest operating performance in 2022 with over 99.9% adjusted completion for the fourth quarter," Childs says. "This performance included the peak Christmas holiday travel period, during which we experienced severe winter weather."
Also during the fourth quarter of 2022, the regional carrier took delivery of four Embraer E175s for Delta Air Lines. It has now taken delivery of 13 of 16 E175s expected to be delivered through the middle of 2024. That will bring its fleet of E175s under contract with Delta to 87.
The carrier currently operates 517 aircraft – 236 E175s, 41 Bombardier CRJ900s, 104 CRJ700s and 136 CRJ200s.
Like all regional carriers in the USA, SkyWest has suffered acutely from the pilot shortage, though Childs says the company "is making headway on our captain imbalance and we're cautiously optimistic as we plan for the years ahead". He declined to share SkyWest's pilot attrition rates but added, "We can say that attrition is not quite as bad as it was last year".
Looking ahead, SkyWest anticipates launching its new charter subsidiary in March or April 2023, pending approval from US federal regulators to operate scheduled public charters.
In 2022, SkyWest flew 1.25 million block hours, down 4.9% from a year earlier. In the fourth quarter, that figure was 284,904, down 18.3% from the final three months of the year in 2021.