Several US Senate Democrats have proposed legislation to require airlines offer full refunds for tickets cancelled either by airlines or passengers during the coronavirus pandemic.
Senators Elizabeth Warren, Edward Markey, Richard Blumenthal, Chris Murphy and Kamala Harris say in a 13 May statement that while US law requires airlines offer refunds when they cancel flights, most carriers instead "default" to offering vouchers for future travel. Only when travellers specifically request refunds do airlines reluctantly comply, the senators say.
Current law does not require airlines provide refunds to ticket holders who decide not to travel for personal reasons.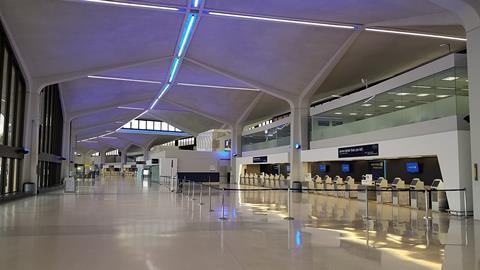 Refunds have been a particularly hot topic since March, when Congress passed a coronavirus aid package that offered airlines up to $58 billion in support. But carriers say they are still hemorrhaging millions of dollars daily operating skeleton networks and fulfilling minimum service requirements set by the Department of Transportation.
"Even before the coronavirus, air travellers were getting tipped upside down and their pockets emptied by exorbitant airline fees," says the bill's sponsor Markey, who represents Massachusetts. In 2018, ten US airlines collected $35.2 billion in ancillary fees for services such as baggage and reserved seats, he adds.
"Congress allocated billions of dollars to airlines to help them stay afloat during this pandemic, but the airlines continue to play games with their customers," adds Connecticut's senator Murphy. "Rebooking is impractical for many consumers, especially given the uncertain nature of the future course of the pandemic."
The bill would force US airlines and third-party ticket sellers such as travel agents and online travel websites like Expedia to offer full cash refunds for all cancellations – irrespective of whether the airline or passenger cancelled - after 1 March 2020, rather than vouchers.
The proposed legislation would also allow vouchers in lieu of cash, but only if vouchers remain valid indefinitely. The bill would require cash refunds be available to travellers up to 180 days after the public health emergency ends. It would apply to international airlines serving US airports, Markey says.
Airlines for America (A4A), the industry group representing 11 North American passenger and cargo carriers, could not immediately be reached for comment. However, last week A4A chief Nick Calio addressed the issue during a Senate hearing. He said airlines comply with existing refund rules and warned that expanded refund requirements could push airlines toward bankruptcy.
Atlanta-based Delta Air Lines says it "continues to provide full refunds to eligible passengers requesting them when we have cancelled a flight or made a significant schedule change". Since the beginning of March, Delta says it has processed more than 2.5 million refunds, totaling $1.2 billion.
American Airlines and United Airlines did not respond to emailed queries.
DOT WARNS AIRLINES
Just a day earlier, on 12 May, the DOT said it had received more than 25,000 consumer complaints about airlines being reluctant to return cash. The agency reminded passenger carriers for the second time in as many months that they must refund tickets for cancelled flights.
"The Department has received an unprecedented volume of complaints from passengers and is examining this issue closely to ensure that airlines' policies and practices conform to DOT's refund rules," Elaine Chao, US secretary of transportation said in a statement. "The department is asking all airlines to revisit their customer service policies and ensure they are as flexible and considerate as possible to the needs of passengers who face financial hardship during this time."
Airlines could be holding $10 billion in travellers' cash – a "no-interest loan" to airlines from consumers, many of whom are having difficulty paying their bills amid the economic downturn, Markey says.
Passengers are entitled to refunds when airlines cancel flights; in cases of significant flight disruptions; if passengers travel in a class lower than paid for; or if passengers paid for services not received, says the DOT's website.
EUROPE AND CANADA
Earlier in the day, the European Union introduced guidelines to reduce pressure on airlines to refund tickets for flights cancelled due to coronavirus, by enhancing the appeal of vouchers.
The European Commission's executive vice-president Margrethe Vestager says passengers are entitled by law to refunds if requested, but that airlines are "caught" between the need to refund passengers while new bookings are "thin on the ground", with the risk that operators could go out of business. The EU is now recommending that vouchers become a "viable and more-attractive alternative", which could relieve some immediate financial pressure on carriers.
In Canada, a traveller denied a refund in March filed a class-action lawsuit against five of the country's major carriers for refusing to refund tickets purchased after the coronavirus severely impacted global air travel.
Updated on 13 May to add Delta Air Lines comment.