Airbahn, a start-up passenger airline headquartered in Los Angeles suburb Irvine, published photos of its first aircraft, an Airbus A320, on social media on 24 November.
"Airbahn is a private airline launching very soon," the company says on its Twitter profile. "It will be based at Irvine, California and plans to operate within and between destinations in [the] western USA."
According to its website, Airbahn is hiring flight-operations and back-office roles based in Irvine and Ontario (both in the Los Angeles metropolitan area), and in San Jose, Oakland and Sacramento. The carrier's website provides little other information.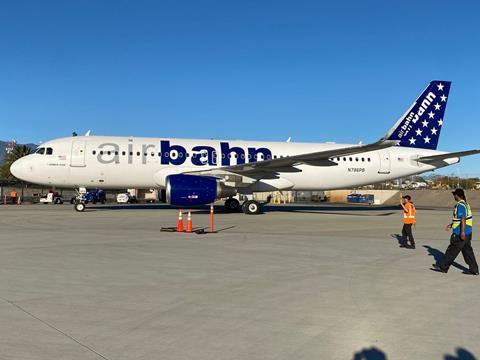 The company does not respond to requests for further information about its operations and launch. Media outlets reported last week that Airbahn is preparing to begin passenger flights in March 2022.
The company filed an application with the Department of Transportation (DOT) for a certificate of operation as a domestic and international airline on 12 October 2018.
The DOT approved the application in October 2020, granting it a Certificate of Public Convenience and Necessity. That gave Airbahn a green light to carry passengers, mail and cargo. Airlines also need FAA certificates to begin revenue flights.
The DOT's approval said the carrier "proposes to operate seven days/week from its base of operations at [John Wayne Santa Ana airport] to points within California and [to] Las Vegas, Nevada, and four days/week from [Santa Ana] to Calgary, Canada".
The application lists Tariq Chaudhary, chief executive of Pakistani airline Airblue, as Airbahn's CEO. The new carrier's livery resembles that of the Islamabad-based airline.
Since the application, Airbahn made little news until photos of the aircraft appeared online last week.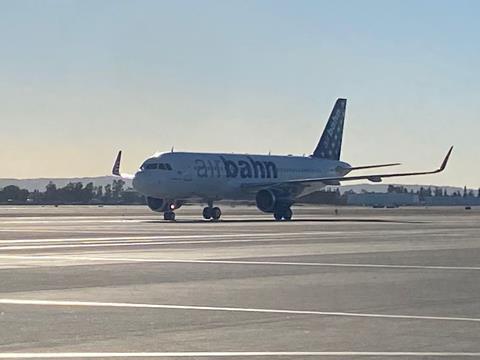 The airline's first aircraft carries registration N786PB, and was built in 2010, according to Cirium fleets data. It was first operated by Airblue in December of that year, put into storage in February 2020 and sold and delivered to Airbahn on 5 October 2021.
The A320 has 158 seats in a single class.
If launched in the first quarter of the new year, Airbahn would be the third US start-up carrier to begin operations in 12 months, and the second based in the Los Angeles area.
Avelo Airlines, which is headquartered at Hollywood-Burbank airport and serves destinations across the western third of the country with Boeing 737s, and Breeze Airways, which operates in the southeast USA with Embraer regional jets and Airbus A220s, both launched last May.