The suspension of international flights amid the coronavirus pandemic will cost Vietnamese airlines D15 trillion ($649 million) in 2021, according to the country's Vietnam Aviation Business Association.
The association made the claim in a report filed with the country's Ministry of Planning and Investment, according to a report in the VnExpress news outlet. This follows D18 trillion in losses in 2020.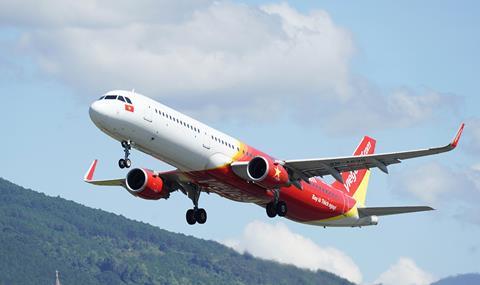 According to the report, low-cost carrier VietJet Air has requested a "credit package" of D4-5 trillion for the 2021-23 timeframe, while Bamboo Airways has asked for long-term loan of D5 trillion.
This follows a D4 trillion bailout of Vietnam Airlines.
In reply to an email from FlightGlobal, Bamboo said that any such discussions are confidential.
"Ongoing submissions and discussions between a company and government authorities of such nature in Vietnam are considered confidential information in accordance with relevant regulations," it says.
"Nevertheless, the fact that some private airlines in Vietnam, including Bamboo Airways, have successfully managed to thrive in [what is dubbed the] "worst year in aviation history", is a vivid demonstration of their resilience and determination. These valuable features should be highly considered when developing the government's support policies, in which financial resources come from a limited government budget and should be utilized effectively."
The airline has grown rapidly since its founding in late 2019. Cirium fleets data shows that it leases 27 aircraft from 10 different lessors. It also plans to hold an initial public offering in the third quarter.
Vietjet did not reply to FlightGlobal's request for comment about the potential loan.
According to a 16 March research report by local brokerage Bao Viet Securities, it swung to a 2020 operating loss of D2.4 trillion, compared with an operating profit D3.8 trillion in 2019. Revenues fell 64% year on year to D18.2 trillion. Still, ancillary revenues helped it to a net profit after tax of D70 billion.
The Bao Viet report also highlighted the challenges facing Vietnam's airlines. Even though the country's domestic market was largely open in 2020 given Hanoi's aggressive response to Covid-19, domestic passenger numbers fell 61.3% to 34.8 million passengers, while international passenger numbers fell 78.9% to just three million.
"More intense domestic competition due to the halt of international routes reduced airline ticket fares, affected business margins in 2020, and this situation is likely to continue in 2021," says Bao Viet.
"The oversupply in the domestic market affects the performance of most airlines, with different stages of impact. In our view, the influence on [Vietjet] will be less severe thanks to its know-how with a low-cost model, while [Vietnam Airlines], operating based on a traditional model, will be hit strongly [by reduced fares]."