UK carrier Virgin Atlantic Airways has filed for Chapter 15 bankruptcy protection in the USA, stating that it will run out of cash in September after months of attempts to cut costs, raise capital and seek UK government assistance.
Bankruptcy protection is necessary given Virgin Atlantic's "deteriorating liquidity position", Virgin argues in the filing in the US District Court for the Southern District of New York.
The Chapter 15 process is geared towards foreign operators.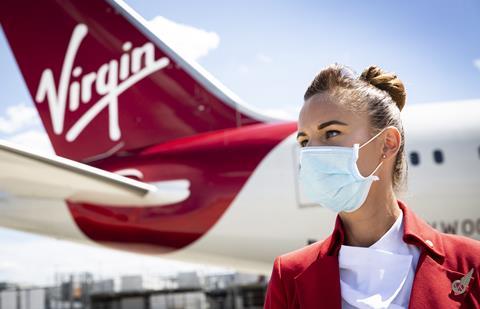 "While [Virgin] has taken various measures to manage its liquidity in light of the unprecedented financial and operating conditions it faces, a more comprehensive recapitalization is necessary to secure the future of its business and ensure that it is able to meet its liabilities and funding requirements beyond mid-September 2020," the filing states.
Virgin Atlantic focuses solely on long-haul flights, which have virtually stopped since March amid the pandemic. Virgin Atlantic's flying fell by 98% in the second quarter year-over-year, and the carrier expects it to remain 60% lower in the second half of 2020.
The carrier is seeking Chapter 15 bankruptcy protections because an English-law administration for the group, it says, "is an outcome that would be value-destructive and likely result in lower recoveries for stakeholders".
It plans to amend a revolving credit facility and certain lease arrangements, arrangements with trade creditors, and arrangements with its affiliates to reduce or reschedule its payment obligations.
In July, the company unveiled a recapitalisation plan aimed at raising £1.2 billion ($1.5 billion) in a series of loans, deferrals and injections of fresh capital over a period of 18 months. It has also cut 3,550 jobs and abandoned its base at London Gatwick in order to consolidate at London Heathrow and Manchester.
Founder Richard Branson stated in April: "Over the five decades I have been in business, this is the most challenging time we have ever faced."
Virgin has 42 twin-aisle aircraft in its fleet, including seven Boeing 747-400s, 17 Boeing 787-9s, four Airbus A350s and 14 Airbus A330s. All of the 747-400s and A330s are in storage, Cirium fleets data shows.
Nearly three-quarters of the fleet is leased with AerCap, Avolon and GECAS most exposed. AerCap, which has the most exposure to the carrier, has six A330s and six 787s placed with the UK carrier.
GECAS has five 747-400s placed with the carrier. The carrier retired its 747 fleet in March.