UK carrier Virgin Atlantic is finally transitioning from crisis-mode to recovery this year following an "intensely challenging 2021", with an expectation that profitability will follow in 2023.
Reporting its full-year 2021 results today, the long-haul operator said that while it went into last year with a positive outlook, the period ended up being even more challenging than 2020 by many measures, delaying its recovery until 2022.
"2021 started with hopes for recovery, following the successful £1.2 billion [$1.6 billion] solvent recapitalisation of the airline in September 2020, underpinned by more than £300 million annual structural cost savings fully delivered," says Virgin Atlantic chief executive Shai Weiss.
"However, with ongoing restrictions and the rapid spread of the Delta and Omicron variants, customer demand was materially impacted and the year became even more challenging than previous, despite the vaccine rollout."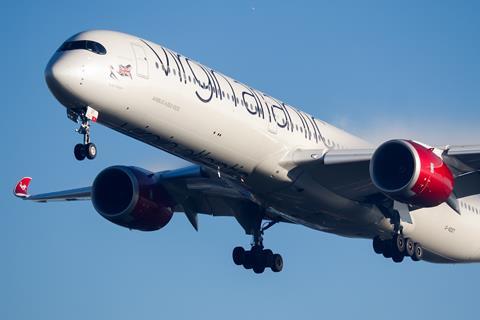 Virgin's passenger capacity measured in available seat kilometres increased 9% in 2021 versus 2020 but passenger numbers were flat. Against pre-pandemic levels, capacity was 29% of 2019 levels and passenger numbers were at 27%.
Record cargo revenue outpaced passenger income for the year, at £448 million versus £410 million, as the airline reported a pre-tax loss of £594 million, which was a £62 million improvement from the 2020 figure.
Non-fuel costs were down 39% on 2019 at £1 billion, reflecting the impact of the aforementioned £300 million in annual cost savings.
The November return of the transatlantic market brought back into play several of Virgin's "heartland destinations", with fourth-quarter passenger revenue rising to 42% of 2019 levels – way ahead of the full-year figure of 20%.
The year also ended with the completion of a £400 million shareholder investment.
"2022 will be a year of transition as we move from survival into recovery and capitalise on the return of customer demand," says Virgin Atlantic chief financial officer Oli Byers. "We have cause for optimism balanced with macro-economic and political uncertainty, alongside the residual risks of the pandemic.
"We anticipate a return to profitability in 2023, driven by a recovery in air travel demand and more than £300m annual cost savings, already delivered."
Virgin notes that it raised more than £670 million of new capital in 2021 and ended the year with a "robust" cash position of £580 million.
Speaking in mid-March, Weiss said Virgin would not be returning to Gatwick airport this year, with operations instead consolidated at Heathrow.