Virgin Atlantic has agreed a further £160 million ($223 million) package of loans and payment deferrals, the majority of which will come from founder Richard Branson's Virgin Group, as the UK carrier awaits a return to flying later in the year.
Virgin Group will provide £100 million of the funding.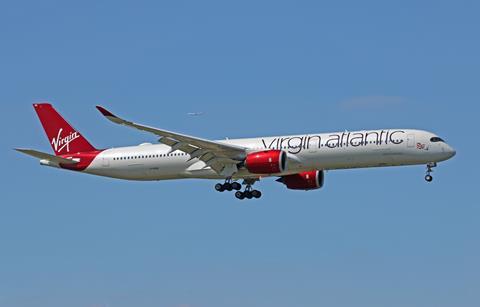 This follows a $230 million financing package secured against two Boeing 787s in January, a move the carrier said allowed it to pay down debt and strengthen its cash position.
"We continue to bolster our balance sheet in anticipation of the lifting of international travel restrictions during the second quarter of 2021," says the airline. "We remain confident that Virgin Atlantic will emerge a sustainably profitable airline and would like to thank our creditors and shareholders, Virgin Group and Delta, for their ongoing support and unwavering belief in our future."
Virgin Group own a 51% stake in the airline. The rest is held by Delta Air Lines.
In September 2020, Virgin Atlantic underwent a £1.2 billion privately funded recapitalisation to bolster its balance sheet, including a £200 million investment from Virgin Group. As part of this it reduced its five-year fleet capex spend by £880 million and targeted £335 million in cost savings, including a 45% reduction in the size of its workforce.
During a webinar last month, chief executive Shai Weiss said that at the end of the process "every asset in our country is leased in some way". The carrier flew zero passengers in the three months from 20 April last year, and owed £600 million ($830 million) in refunds.
The recapitalisation was based on the assumption that borders in the UK, USA and elsewhere would reopen by Easter, but restrictions are likely to remain in place until at least mid-May.
The latest financing arrangements mean that the carrier "has sufficient liquidity to trade through until passenger flying recommences at scale this summer and expects to return to profitability in 2022", it says.
It adds that with the Covid-19 vaccine rollout continuing apace, "customers are booking for travel from Q2 2021 and beyond", while it is continuing its expanded cargo operations.