Virgin Australia could become the latest airline to require all employees to be inoculated against the coronavirus, following similar moves by compatriot Qantas and other airlines in Europe and North America.
The Brisbane-based carrier announced on 30 August that it is "commencing consultations" with employees and unions about mandatory vaccinations, with a final decision to be made by September.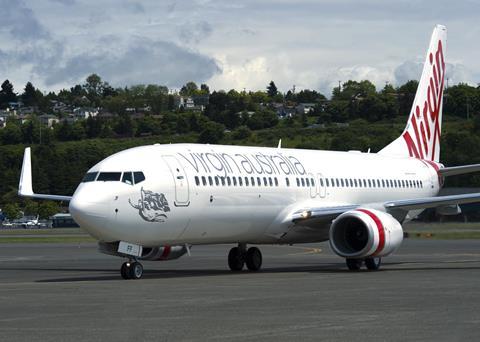 The current proposal states that all frontline employees — including crew members and airport staff — be fully vaccinated by 15 November, with the rest of the company to be inoculated by 31 March 2022.
"The company believes that requiring vaccination is the best way to protect the health and safety of our workforce, and in turn the wider Australian community and everyone's way of life," Virgin Australia states.
It notes that more than 75% of its frontline employees have received at least one dose of the coronavirus vaccine, with another 9% registered to be inoculated.
"In relation to our office-based workforce, who do not get the same priority access to vaccines as our frontline team members, over 56% have had at least one dose, with another 27% registered to be vaccinated," the carrier adds.
Airline chief Jayne Hrdlicka says the airline is aware of concerns some employees may have, but hopes to "inform and assure" through an internal education campaign and dialogue.
Adds Hrdlicka: "Virgin Australia is not alone as a business in being deeply affected by the events of recent months. It is clear that vaccination is the only way back to normal freedom of movement and the richness in life that comes from spending meaningful, in person time with family, friends and colleagues.
"Vaccination is the only solution to the situation Australia currently finds itself in, and something we have determined is vital to keep our team safe, given the high public exposure most of them encounter day to day."
In recent weeks, airlines around the world — from Qantas to Air Canada and Swiss — have rolled out vaccine mandates for all employees. Qantas, for example, made the case that vaccines will "safeguard our people against the virus but also protect our customers and the communities we fly to".