Mexican discount carrier Volaris lost $39 million in the third quarter of 2023 and is planning to beef up its service to the USA while warning about flight disruptions caused by Pratt & Whitney (P&W) engine issues.
The Mexico City-based carrier released its financial results on 25 October, saying it turned a $39 million operating profit (excluding interest and taxes) in the third quarter, up 11% from last year. The carrier generated $848 million in third-quarter revenue, up 10% year on year.
"Volaris' performance in the third quarter showed resilience, resulting in revenue growth," says chief executive Enrique Beltranena. "This growth was mainly due to increased passenger volumes and record-high ancillary revenue per passenger. We achieved this by maintaining strong cost control, especially when it came to non-fuel expenses."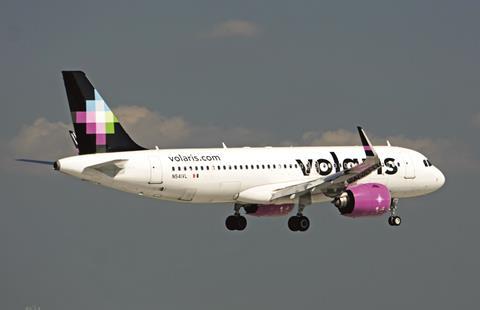 "Despite facing challenges related to Pratt & Whitney's GTF preventive-accelerated inspections, Volaris is fully committed to ensuring the safety, financial stability and long-term success of our airline," he adds.
P&W is recalling thousands of PW1100G geared-turbofan (GTF) engines due to defective disks, a move that will force airlines globally to ground hundreds of Airbus A320neo-family jets at any given time in the coming year.
During a call with investors, Beltranena says the issue will affect up to 73 aircraft in Volaris' 126-strong Airbus fleet, and that the airline is "actively addressing the global issues" related to the engines.
"We've developed a mitigation plan to partially offset the impact," he says. "Management is looking for alternative solutions."
Those include extending leases on aircraft and redeploying capacity to other routes. Volaris says the issue will leave its fourth-quarter capacity flat compared to last year and that its operating revenue will remain "at the low end" of its previous guidance of $3.2 billion.
"The situation is still evolving, but we anticipate the inspections will limit capacity deployment," Beltranena says. "It is fair to assume that we will be forced to shrink our capacity in 2024 as a result of these engine issues."
CATEGORY 1 BENEFITS
The Federal Aviation Administration's recent safety status elevation of Mexico will have a positive impact on the carrier, which has focused its business model on "VFR" – visiting family and relatives – travel. That segment "remains robust", executives say.
In September, the US aviation regulator cleared the way for Mexican carriers to increase flights and introduce new routes between the two countries after an almost two-and-a-half-year pause. In May 2021, the FAA had downgraded Mexico's International Aviation Safety Assessment rating to Category 2 from Category 1 after finding the country did not meet International Civil Aviation Organization safety standards.
Category 2 designations mean the FAA deems that a country does not have laws or regulations needed to support safe air travel, or that its civil aviation authority lacks adequate technical expertise, trained personnel, record keeping, inspection procedures or resolution of safety concerns.
While the FAA allowed existing air service between the countries to continue, the Category 2 designation restricted Mexican carriers from introducing new US routes and hindered US airlines' ability to market and sell tickets on Mexican carriers via codeshare partnerships.
Since the reinstatement, all three major Mexican airlines – Volaris, Aeromexico and VivaAerobus – said they will add routes or expand capacity to take advantage of new business opportunities across the northern border.
While US major airlines like Delta Air Lines and American Airlines tend to serve Mexican cities favoured by tourists and vacationers, Volaris says its US strategy focuses on serving the Mexican diaspora.
"We are flying from the centre of Mexico to Mexican heritage markets in the US that have no direct service, while US carriers focus on leisure destinations," says Holger Blankenstein, the company's executive vice-president responsible for commercial operations.
Volaris capacity international markets, meaning primarily trans-border travel to the USA, will rise 19% in the fourth quarter compared to last year, he adds. The airline has taken capacity out of its domestic flying in favour of increasing business to the USA. Its capacity between the USA and Central America is on track to increase "in the high double digits year-on-year", Blankenstein says.
"New international routes typically have a longer ramp-up time than domestic routes, however we are not introducing any new routes, we are adding capacity to existing markets that require more capacity," adds Beltranena. "Because we are seeing extremely high loads in [those] markets."
The airline carried 8.7 million passengers during the third quarter, up 7% from last year. International travel led that rise, with a 24% increase. Its total capacity, measured in available seat miles, rose 8.2% to 10.1 billion.