Volaris is seeking to raise up to 3.5 billion Mexican pesos ($162 million) through a rights offering, share sale or debt issuance to strengthen its balance sheet and enable it to take advantage of market opportunities.
The Mexico City-based low-cost carrier has called an extraordinary general shareholders meeting on 18 September, during which it plans to ask for approval to issue new shares that will be used to raise capital through one or a combination of financing options under evaluation.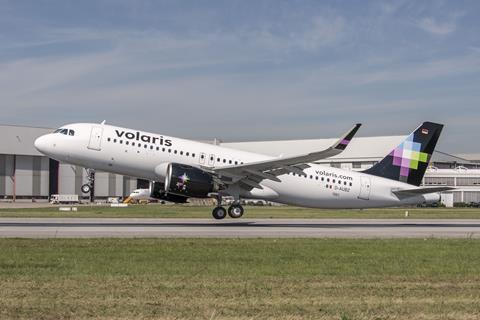 Options include a rights offering, the outright sale of shares and the issuance of debt or convertible debentures, states Volaris. It adds that any such offering "could be carried out individually or in conjunction with other transactions for a period of 12 months" from the date it obtains shareholder approval.
"The net proceeds from the capital raise are intended to further enhance Volaris' liquidity position to face a challenging and uncertain operational environment due to the Covid-19 pandemic, and are expected to provide Volaris with greater financial flexibility to move quickly to capitalise on opportunities that will help improve the position of the company in the aviation market," says the carrier.
Volaris notes that restructuring processes at other Mexican airlines have resulted in domestic capacity shrinking by a third, while its "ultra-low-cost business model" has allowed it to "ramp up more quickly and strengthen its competitive position".
Volaris had $436 million in liquidity at the end of the second quarter, down slightly from $450 million at the end of the previous quarter. Its fleet includes 82 leased Airbus narrowbodies, Cirium fleets data shows. The carrier has 104 Airbus A320neo and A321neo aircraft on order.