Ultra-low-cost carrier Volaris anticipates lower coronavirus infections and ongoing strong demand for leisure travel to Mexico will make for a successful summer season.
"2022 started with sharply rising fuel prices and a new surge in Covid cases," the airline's chief executive Enrique Beltranena says on 27 April. "Strong demand trends remained, however, and we are observing less and less of a disruption in demand from new Covid cases and customers recognizing Volaris' reliability."
That increased demand allowed Volaris to raise prices in order to offset the rising fuel prices.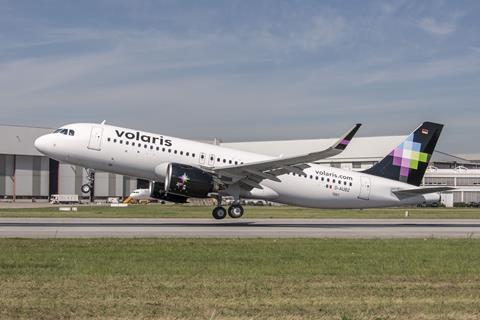 The Mexico-City-based carrier reports an 80% increase in revenue during the first quarter of 2022, to $567 million. In the same three months last year the company had reported $315 million in total revenue.
However, operating expenses also rose 70% to $598 million from $351 million, leaving Volaris with a net loss of $49 million for the quarter.
Volaris transported 7 million passengers during the quarter, 64% more than last year. Total capacity in terms of available seat miles (ASMs) increased 50%, the airline says. Its load factor rose to 83.5%, more than five percentage points higher than during the first quarter of 2021.
"Our [first-quarter] results give us confidence in the overall strength in demand of our existing markets and our ability to closely match it with new capacity," Beltranena adds, saying the airline is "well-positioned for the summer season".
During the period, Volaris added three new A320neo aircraft to its fleet, bringing the total number of aircraft to 104 – six A319s, 81 A320s and 17 A321s. Almost half of those are the more-fuel-efficient "new engine option" models, Volaris adds. The company is aiming to end 2022 with about 115 aircraft.
"Despite the macroeconomic and geopolitical challenges around the globe, demand remains strong across Volaris' route system," the company says of the second quarter. "Accordingly, Volaris expects to continue with its growth plans while closely monitoring demand trends."
Volaris will hold a webcast on 28 April to give more details on its first-quarter results and outlook for the rest of the year.