Struggling UK regional carrier Flybe operates more than a third of the country's domestic flights and carries more than a quarter of domestic passengers, Cirium schedules data shows.
This makes the state rescue deal agreed yesterday a political lightning rod for a government that has pledged to improve connectivity to the regions but has also promised to cut greenhouse gas emissions to net zero by 2050.
The Exeter-based airline has been in the headlines in recent days after there emerged reports that it was holding funding discussions with the UK government and had placed an accountancy firm on standby in case it had to file for administration.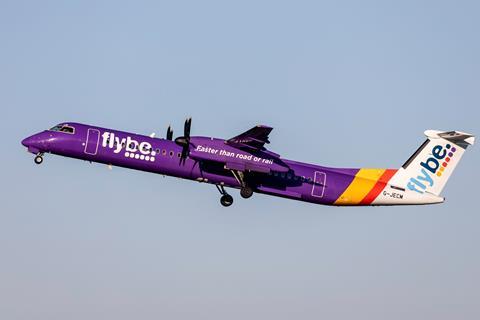 Following emergency talks between Flybe's owners – the Connect Airways consortium – and the government, UK business secretary Andrea Leadsom confirmed on 14 January that an agreement had been struck "to keep the company operating, ensuring that UK regions remain connected".
As part of that agreement, the government could defer millions of pounds owed by Flybe to cover its air passenger duty (APD) tax bill. The UK Treasury says that in the run-up to the March budget it will carry out a review of APD for all airlines "to ensure regional connectivity is strengthened while meeting the UK's climate change commitments to meet net zero by 2050".
Environmental groups are strongly opposed to cutting taxes on air travel, which they argue are already much lower than for other forms of transport, and they do not see how making domestic air transport cheaper is commensurate with achieving the net-zero emissions target.
But Cirium schedules data for January 2020 highlights the quandary faced by the government, which won votes in regions outside the southeast that depend on the connectivity provided by Flybe. The data shows that Flybe operates 36% of the UK's domestic flights, putting it ahead of the country's two largest airlines – EasyJet, which flies 22% of intra-UK routes and British Airways, at 19%.
The regional airline carries 26% of domestic passengers – the smaller aircraft types it operates putting it behind EasyJet, which carries 36% of domestic passengers, and BA, at 29%. At one UK airport it serves – Anglesey – Flybe operated 100% of scheduled departures in 2019, Cirium data shows. A similar picture emerges at Southampton, where 95% of scheduled departures were operated by Flybe last year, and Belfast City, at 79.5%.
UK domestic flights in January 2020
Airline
Flights
Seats
Passengers (est)
Share (flights)
Share (seats)
Share (passengers)
Source: Cirium schedules data
Flybe
7,573
551,522
441,218
36.0%
26.0%
26.0%
EasyJet
4,586
771,166
616,933
21.8%
36.3%
36.3%
British Airways
4,064
611,070
488,856
19.3%
28.8%
28.8%
Loganair
3,301
113,880
91,104
15.7%
5.4%
5.4%
Aurigny
1,030
64,697
51,758
4.9%
3.0%
3.0%
Isles of Scilly Skybus
256
7,680
6,144
1.2%
0.4%
0.4%
Directflight
172
1,548
1,238
0.8%
0.1%
0.1%
Hebridean Air Services
63
567
454
0.3%
0.0%
0.0%
TOTAL
21,045
2,122,130
1,697,704
100%
100%
100%
The Treasury statement stresses that the support measures it is putting in place to help Flybe are "a sign of the prime minister's commitment to levelling up all regions of the UK". The government says it will review regional connectivity across the country to "ensure all nations and regions of the UK have the domestic transport connections local communities rely on – including regional airports".
While Flybe operates more than a third of domestic flights and is in the top three UK-based airlines when it comes to overall passengers carried and seats flown, Cirium data highlights the extent to which it is a smaller player than EasyJet and BA. Monthly operations data from January shows that EasyJet had a 44% share of passengers carried by UK-based airlines, followed by BA at 34% and Flybe at just 5%.
The airport at which Flybe has the most passengers – Manchester, where January passenger numbers are expected to be 15,546 – is also served by both EasyJet and BA. Other key hubs and bases for Flybe, in decreasing order of weekly flights and passenger numbers, based on Cirium data, are Birmingham, Southampton, Belfast and Edinburgh. At the other end of the scale, at Durham Tees Valley – where Flybe operated 43.9% of departures in 2019 – Cirium estimates that it will carry just 336 passengers in January.
It is not only environmental groups that have slammed the government's decision to help bail out Flybe. Willie Walsh, chief executive of BA parent company IAG, responded angrily to the move, and has made his feelings clear in a letter to UK transport secretary Grant Shapps.
"Prior to the acquisition of Flybe by the consortium which includes Virgin/Delta, Flybe argued for taxpayers to fund its operations by subsidising regional routes. Virgin/Delta now want the taxpayer to pick up the tab for their mismanagement of the airline. This is a blatant misuse of public funds," argues Walsh in a statement shared by IAG.
"Flybe's precarious situation makes a mockery of the promises the airline, its shareholders and Heathrow have made about the expansion of regional flights if a third runway is built."