Wizz Air will reinstate pilots' salaries to their pre-Covid levels from 1 October, and is launching a recruitment drive to bring in additional staff as it rebounds from the pandemic.
The low-cost carrier enacted a temporary pay cut for pilots last year as it sought to slash costs as booking numbers collapsed, but a rapid rebound in activity is now leading the carrier to embark on its largest-ever recruitment drive.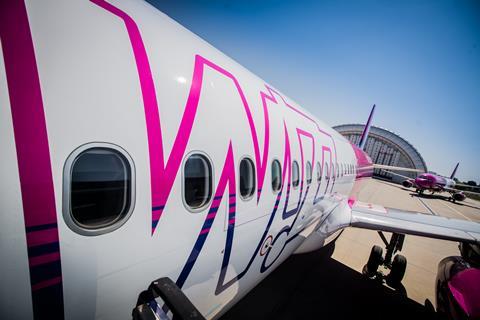 It is seeking 200 new pilots and 800 members of cabin crew by December. Over the next 10 years, it foresees a tripling of its fleet to more than 500 aircraft, growth that will require an average of 200 new recruits each year for a decade.
"The recruitment drive follows a year of rapid expansion for Wizz Air, despite the challenges of the pandemic," says the carrier. "Since March 2020, Wizz Air has added 18 new bases and over 300 new routes to its network, which spans Europe and beyond, and is now flying over 100% of pre-Covid capacity on over 1,000 routes to 197 destinations in 49 countries.
"In the UK, Wizz Air has opened two new bases at Gatwick and Doncaster Sheffield, with its fourth base at Cardiff airport due to launch in summer 2022, demonstrating the airline's commitment to the UK market and its strong foothold for further growth."
Wizz announced in April last year that as a result of Covid-19 it would cut some 1,000 positions, around a fifth of its workforce.
As the recovery has taken hold through 2021 those cuts have begun to be reversed, and Wizz has been rolling out one of the most aggressive expansion plans in the industry.
In August, it announced its intention to hire 4,600 new pilots by 2030, adding that it had already trained over 150 new pilots to allow it to reach pre-Covid capacity during the late-summer. It said it hoped to recruit a further 300 by the end of 2021.
The move tallies with Wizz's strategy of using the crisis to expand its footprint across Europe and gain market share. Chief executive Jozsef Varadi expects that the carrier will emerge a "structural winner" from the pandemic.
Rivals have cited staffing issues as a potential stumbling block to the carrier's rapid expansion.
Speaking at an industry event in July, Ryanair Group chief executive Michael O'Leary commented that pilot shortages were already holding the carrier back. "Wizz are in crisis" because of the issue, he suggested, citing cancelled routes and flights. "We think they are suffering enormous challenges at the moment."