German logistics firm Zeitfracht Group has divested its stake in Romanian low-cost operator Blue Air.
Zeitfracht acquired a stake in Blue AIr in early 2019.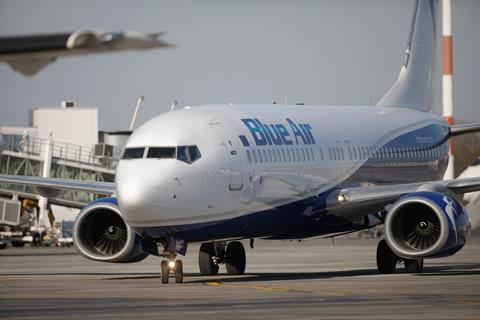 "Blue Air confirms Zeitfracht Group's decision to withdraw from the shares of Blue Air Aviation to focus on its B2B freight and logistics business," a spokesperson for the Romanian carrier says.
"From the beginning of the collaboration, we sought to identify additional synergies to expand the collaboration of the two companies on the European market.
"At the end of last year, following Zeitfracht's strategic decision to focus on ACMI's business and freight transport and given the financial consolidation of Blue Air, the two companies decided to continue the partnership with separate shareholders," the spokesperson adds.
Romanian business website Profit.ro reports the stake was 10% and has been sold to Blue Air majority owner Teodor Cristian Rada,who now holds 99% of the airline.

Since the coronavirus pandemic forced the carrier to suspend scheduled flights, Blue Air has been operating some charter flights and working on securing financing required to resume flights. It says in April the Romanian government approved the granting of state aid in the form of a credit or guarantee to losses from the suspension of flights.
"To get through this period, the Blue Air team has implemented a rigorous plan to adapt to the new economic conditions, including fleet optimisation, technical unemployment for over 90% of our colleagues and reduced salaries for all our colleagues who remained active," says Blue Air chief executive Oana Petrescu.
Logistics specialist Zeitfracht had in February last year also acquired German regional carrier LGW from Eurowings and later established the German Airways brand for flights operated by LGW and Zeitfracht's other regional operator, WDL.
In April LGW filed for insolvency, after Eurowings terminated a wet-lease agreement amid the coronavrius grounding. German Airways continues to offer wet-lease services though WDL, which operates Embraer 190s.