Many airline pilots feel stressed and undervalued by management, and – despite record demand for flightcrew globally – worried about job security and automation making their role redundant.
Those are among the findings of a survey by Goose Recruitment and FlightGlobal, which polled more than 1,300 working pilots worldwide on their attitudes to work.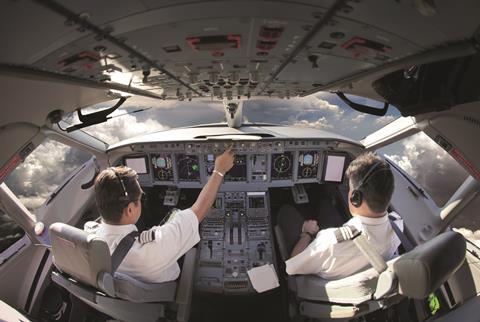 Despite a common public perception that a cockpit career is glamorous, well rewarded and a job for life, the survey reveals that pilots often feel anxious and insecure.
For instance, four in 10 pilots say they become "most stressed" when dealing with company management, with rotations – the number of airport turnarounds they must carry out in a day – the second-biggest contributor to stress, ahead of their daily commute to work, safety concerns, and passengers.
With flightcrew mental health being very much in the spotlight following instances such as the 2015 Germanwings Airbus A320 crash in the French Alps, caused by a first officer intent on suicide, almost six in 10 pilots feel their employer does not care about their wellbeing.
The concern is more marked among those flying in the Middle East and Africa, with 75% responding negatively to the question about their employers' pastoral care, and mid-career pilots, where 63.5% of those aged 35 to 54 give the same response. A total of 65% say that their employer does not encourage them to talk about their mental health.
Frequent studies maintain that an expanding aviation industry will struggle to find the pilots it needs over the next decade, yet more than half the flightcrew in the survey say they have worried about losing their job in the past two years. This may be partly due to recent publicity around high-profile airline collapses.
Pilots' general ennui extends to their hopes for the future. More than seven in 10 do not plan to fly to retirement age, and fewer than six in 10 would recommend a career as a pilot to young people: something that could restrict the pipeline of new recruits needed to replace those who plan to retire or otherwise leave the profession.
With cockpits increasing in sophistication, four in 10 respondents worry that autonomous technology is making the role of the pilot redundant. Many believe that a growing acceptance of innovations such as driverless cars could lead to pressure for single-pilot operations and eventually aircraft that can be piloted remotely or independently.
Among other findings, pilots rate "work-life balance" as the highest priority when choosing a flying job, ahead of salary, company culture, training, and career development. Interestingly, the list is almost reversed for pilots at the start of their career, who give "company culture" the highest rating, followed by career development and salary, with work-life balance the least important. This may be because millennial and so-called Generation Z pilots are often saddled with training debts and keen to work long hours to progress their careers, but also want to work for an organisation whose values they share.
The survey also reveals that Lufthansa, Air France and Virgin Atlantic are the three airlines pilots would most like to work for. Delta Air Lines, KLM, Emirates, Qantas, British Airways, Air New Zealand and Singapore Airlines make up the rest of the top 10, with respondents given a long list of carriers to choose from.
A total of 62% of respondents to the survey are captains, with 28% first officers and the remainder second officers or cadets. Almost two in five had more than 10,000 flying hours, with a further quarter having flown for between 5,000h and 10,000h. Those taking part are based in every region of the world, with the biggest proportion – 30% – aged between 45 and 54 years, and a further 28% between 35 and 45 years old.
"These results show that, despite the appeal of a career as an airline pilot and demand for their services being higher than ever, airlines have significant challenges to address when it comes to the job satisfaction and wellbeing of their most important employees," says Mark Charman, founder and chief executive of Goose Recruitment.
Sophie Wild, director of content partnerships and recruitment at FlightGlobal, says that while the survey does highlight many positive aspects of being a pilot, "employers cannot ignore their responsibilities when it comes to issues like stress and mental wellbeing".