AVIC Cabin Systems has disclosed product developments at four of its divisions to address new demand in the single-aisle market, especially on longer routes.
The UK-headquartered interior equipment arm of Chinese aerospace group AVIC says its Jiatai subsidiary is in the process of developing a new economy seat, designated the JT32XE, specifically for extended-range narrowbody flights. It is primarily targeted at Chinese airlines and will be complemented by a new business seat, the interior manufacturer adds.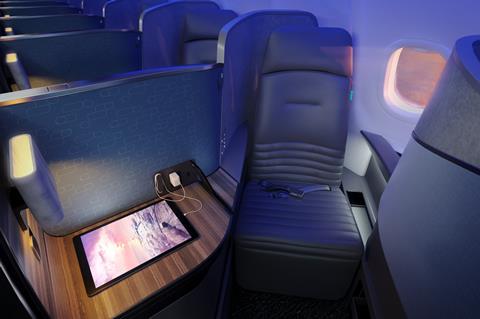 UK galley and cabin monument specialist AIM Altitude meanwhile plans to launch a new galley concept for single-aisle aircraft later this year. AVIC says the "groundbreaking design" will deliver a smaller footprint, enabling either additional seat installation or increased galley space for more elaborate on-board service.
Thompson Aero Seating, another AVIC subsidiary, based in Northern Ireland, has developed a fully flat business seat for single-aisle aircraft. This was unveiled by launch customer JetBlue Airways in February. The US carrier will install the seat on Airbus A321s and initially deploy it on flights between New York JFK and Los Angeles in June, before rolling it out for transatlantic flights to London, scheduled to be launched launch during the third quarter.
AVIC's Austrian composites subsidiary FACC has devised a barrier-free lavatory for A320-family aircraft to provide access for passengers using wheelchairs or having otherwise reduced mobility. AVIC says that the lavatory's tapered geometry provides passengers "significantly more space" while its external dimensions are the same as standard A320 lavatories.
Additional features of the monument include an improved sink mechanism, adjustable mirror and handles to enable wheelchair users to access the lavatory.
AVIC Cabin Systems vice-president commercial Andy Morris states that the company's objective is to provide "bespoke products that will align the single-aisle long-range passenger experience with twin-aisle" aircraft. He adds: "The possibilities for single-aisle aircraft are rapidly growing, with longer-range flights being regularly introduced."
The cabin interior group includes Chinese company Fesher Aviation Components in addition to AIM Altitude, FACC, Jiatai and Thompson Aero Seating.