Collins Aerospace has acquired Dutch Thermoplastic Components in a deal that brings under the US aviation giant's umbrella the manufacturing of thousands of composite parts, including longerons, struts and stiffeners.
Collins revealed the acquisition on 17 November but did not disclose the purchase price or financial details.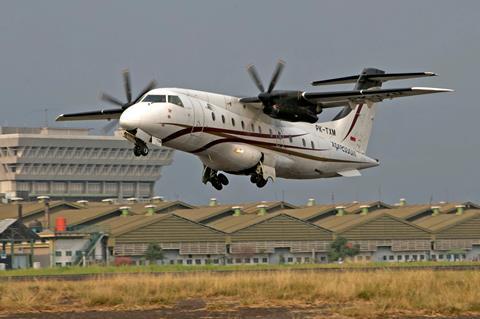 Dutch Thermoplastic, which is located near Amsterdam, produces "more than 2,000 unique part numbers for more than a dozen commercial and business aviation platforms," says the company's managing director David Manten.
Collins notes that components made from thermoplastic are lighter and require fewer fasteners than metallic components.
"Thermoplastic parts can be manufactured in minutes, and the process can be easily automated, which makes thermoplastic composites an ideal material for high-rate aircraft production," says the US company. "With this acquisition, Collins will expand the use of advanced thermoplastics to make aircraft lighter and more fuel-efficient."
Collins describes the acquisition as an effort to "drive further expansion of advanced thermoplastic composites for complex aerostructures to make aircraft lighter, safer, stronger, more cost-effective and environmentally friendly".
Dutch Thermoplastic opened in 1998 and initially produced landing flap ribs for Dornier 328 turboprops. Its other thermoplastic components include longerons, stiffeners, struts, stringers, seal retainers, brackets, cleats and clips.
Those products are found on "20 different types of aircraft, ranging from widebodies [and] single-aisles to business jets and helicopter platforms", Collins says.
Aircraft with those parts include Boeing 787s and Airbus A350s, according to archived snapshots of Dutch Thermoplastic's website.