Collins Aerospace' aircraft interiors business is lagging the company's broader recovery due to the slow return of demand for international long-haul air travel.
Broadly, Charlotte-based Collins, a division of Raytheon Technologies, has been on a steady path toward recovering from the Covid-19-driven downturn.
But thanks little to its aircraft interiors division, which sells a range of products found inside the fuselages of commercial jets.
"It is probably the slowest recovery of all of the Collins' businesses," Raytheon chief executive Gregory Hayes said on 24 January of the unit.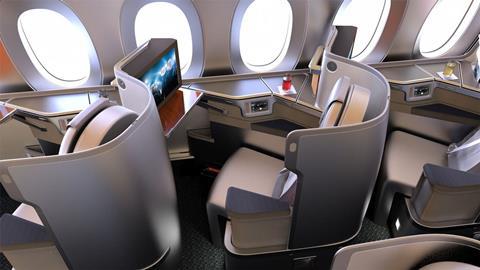 That business sells aircraft seats, cabin lights, galley and lavatory equipment, and in-flight entertainment, fire-protection, oxygen and water systems.
Raytheon does not disclose how much revenue those products generate. But overall, Collins logged $20.6 billion in sales last year, up 12% from 2021. The company is closing in on hitting the benchmark $26 billion in sales it logged in pre-pandemic 2019.
"As the airlines were conserving cash these last couple of years, we saw [interior product] sales down significantly," Hayes adds. "We don't expect a recovery in the interiors business literally for the next three years… It will remain a challenge."
Hayes says the business depends significantly on sales of components for widebody passenger jets – a segment that the pandemic hit particularly hard.
In November 2022, international passenger airline traffic had returned to just 74% of the 2019 benchmark, according to IATA's most-recent market analysis.
Globally, 3,847 widebody passenger jets are now in service, down from 4,440 in January 2019, according to Cirium data.