JetBlue Airways has unveiled new full-flat business seats ahead of its planned launch of flights to London later this year.
The New York-based airline says the new seat, supplied by UK manufacturer Thompson Aero Seating, will initially be deployed in a 16-seat layout on a limited number of flights between JFK and Los Angeles in June.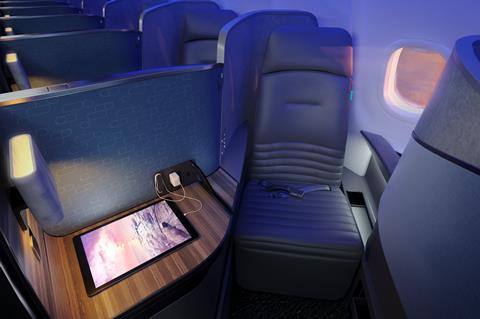 Services to London are scheduled to begin during third quarter, with a 24-seat layout in the airline's Mint premium section.
Thompson says the seat is a "fully bespoke" version of its Vantage Solo product, a further development of the original seat JetBlue introduced in 2014. That was the first full-flat seat for single-aisle aircraft, the manufacturer notes.
Unlike the original Vantage version, the new seats are installed in a herringbone layout, providing each premium traveller a suite with direct aisle access, a 17in Thales Avant IFE screen, and a sliding suite door.
The two front-row seats – marketed by JetBlue as "Mint Studios" – feature additional amenities built into the monuments that separate the seats from the forward door entry and galley area. This includes self-service water and snack supplies, a 22-inch screen, additional fold-down tables and stowage areas, and an articulating guest seat "to create an expansive sleeping or lounging surface" with the folded-down main seat, Thompson says.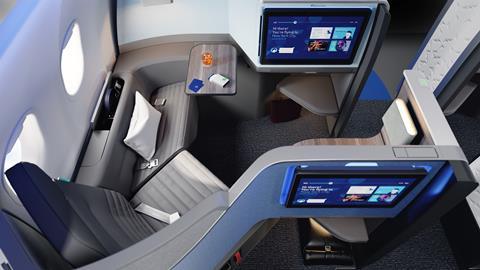 Created in co-operation with London-based design firm Acumen, the new seat is part of what JetBlue terms the "first complete redesign" of its Mint premium product.
"Mint was an idea to make premium travel across the US less stuffy and more affordable, and its performance has exceeded even our most optimistic expectations of going beyond New York, Los Angeles and San Francisco," states JetBlue chief operating officer Joanna Geraghty.
The product is now available on more than 30 routes today.
Thompson managing director Neil Taggart describes the seat arrangement as "ground-breaking" for narrowbodies. "From only a 33-inch seat pitch, it offers a fully horizontal flat bed with direct aisle access for every seat… offering an exclusive business-class seating experience normally only the reserve of a widebody cabin," he states.
As for JetBlue's long-awaited London routes, the carrier on 19 January complained to the US Department of Transportation that the UK government is protecting airlines that have slots at Heathrow and Gatwick airports but are not using them. Despite this obstacle, JetBlue chief executive Robin Hayes has said the New York-based carrier has a "path" to begin operations at "more than one" London airport.