Qatar Airways is highlighting its steps towards offering full touchless in-flight technology onboard its aircraft in a further sign of how airlines are adapting their product and marketing in light of customer sensitivities to flying in the post-pandemic environment.
The Gulf carrier is introducing technology enabling passengers to navigate the onboard IFE across its Airbus A350 fleet using their personal electronic devices, as well as the offering the option to use their own headphones to access onboard content via Bluetooth technology on its Boeing 787 fleet.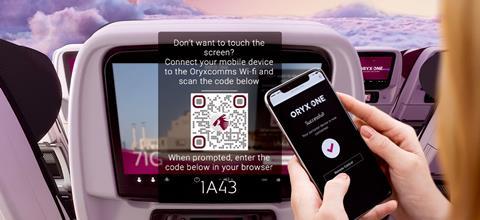 Qatar Airways chief executive Akbar Al Baker says: "The introduction of the state-of-the-art zero-touch technology, and enabling passengers to use their personal Bluetooth headset on board is an important step in taking our already rigorous and stringent Covid-19 precautions to another level, limiting passenger surface contact and preventing any possible spread of infection on board.
"We hope it provides yet further assurance of the safety of air travel, as well as offering passengers on board increased confidence that they are enjoying the most consistently advanced customer experience available in the sky."
The Gulf carrier's zero-touch technology, introduced in partnership with the Thales AVANT IFE system, will enable A350 passengers to pair their personal electronic devices with their seat-back IFE screen by connecting to the 'Oryxcomms' Wi-Fi and scanning a QR code displayed on the screen. This will allow passengers to use their own devices to navigate the onboard IFE system.
The Doha-based airline will also offer passengers the option to pair their personal Bluetooth headphones with the onboard seatback IFE system in all cabins across its Boeing 787-9 fleet.