Raytheon Technologies has slowed development of a hybrid-electric airliner under an effort called Project 804, though the company insists it remains committed to advancing electric-aircraft technologies.
The degree to which Raytheon and its subsidiaries have slowed Project 804 remains unknown.
The company attributes the changed pace to the coronavirus pandemic, which has forced many aerospace companies to cut staff and slash costs.
"The electrification of aircraft remains a high priority for Raytheon Technologies, and we continue to mature the enabling technologies being developed under [Project 804], albeit at a slower pace in the face of Covid-19," Raytheon says.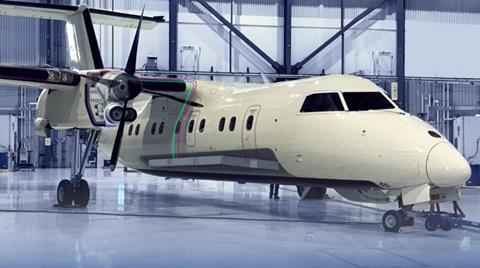 Raytheon predecessor United Technologies (UTC) revealed Project 804 in March 2019. Raytheon merged with UTC in June.
A unit called United Technologies Advanced Projects (UTAP) led the effort. It partnered with Collins Aerospace and Pratt & Whitney Canada, which were also part of UTC and are now owned by Raytheon.
The team aimed to integrate a hybrid-electric propulsion system into a De Havilland Canada Dash 8-100 turboprop, and to conduct first flight by 2022.
Raytheon does not provide an updated timeline for Project 804. Pratt & Whitney defers comment to parent Raytheon.
Project 804's goal was to replace one of a Dash 8's two P&WC PW100 turboprops with the hybrid-electric arrangement.
The hybrid system would generate 1MW of power and work in concert with the turboprop.
UTAP had said such technology could be offered as a retrofit for existing aircraft or offered in a newly-designed aircraft.
Project 804's name nods to the straight-line distance in miles between P&WC's Canada facility and a Collins site in Rockford, Illinois.
Also in 2019, Collins launched a separate, Rockford-based effort called "The Grid", which aimed to advance electric systems technology. The Grid's work was to include testing Project 804's hybrid system, Collins said.
The slowing of Project 804 work comes amid an industry downturn that has pushed many aerospace suppliers into cost-cutting mode.
Raytheon this year has eliminated some 8,000 commercial-aerospace jobs and plans to conserve some $6 billion in cash during 2020, chief executive Greg Hayes said on 28 July.