Supply chain troubles, labour shortages and inflation will continue pressuring Raytheon Technologies' results in 2022, affecting operations of subsidiaries Pratt & Whitney and Collins Aerospace.
Raytheon "has seen its share of supply disruptions", chief executive Gregory Hayes says on 25 January. "We see some labour shortages with skilled positions."
Hayes specifically mentions tight supply of "castings" due to a "shortage of welders", saying such issues will result in a "slow first quarter, particularly at Pratt, but also at Collins".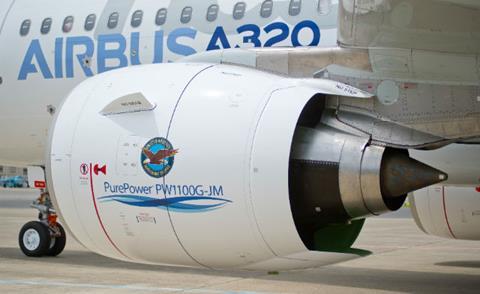 He made his comments during Raytheon's full-year 2021 earnings call.
Manufacturers across industries have struggle with supply chain hiccups and worker shortages in recent months. Collins and Pratt & Whitney face the challenge of keeping up with Airbus and Boeing. Airbus, in particular, has been working to significantly boost production of A320neo-family jets following a pandemic-caused slowdown.
P&W makes PW1100G turbofans, which are one of two A320neo power options.
Even prior to the pandemic, P&W had struggled with a shortage of some components, including of metal castings. To help address the shortage, P&W has been building a new castings and airfoil manufacturing facility in Asheville, North Carolina. The engine maker has said that facility will begin producing components in the second half of 2022.
"We anticipate that Covid-related labour disruptions will persist through the first half of the year but will ease through the second half," adds Raytheon chief financial officer Neil Mitchill.
Of the thousands of companies that supply Raytheon, less than 100 are "giving us real concern", Hayes says. "We are working with our suppliers to make sure we can get supply back up to demand."
Hayes also cites "higher-than-expected" inflation and says Raytheon expects "$150 million of price pressure from unexpected inflation in the supply chain" for 2022. "Our hope is that we are going to see inflation start to slow down… in the back half of the year."
Raytheon posted a $3.9 billion profit in 2021, reversing a $3.5 billion loss in 2020. The company anticipates sales in 2022 will jump 7-9% year-on-year.