Safran is replacing the passenger seat models it provides on the Airbus A220 as the sole supplier-furnished equipment (SFE) manufacturer.
The French aerospace group says its short/medium-haul economy seat Z110i and business model Z600 have been selected by Airbus as SFE.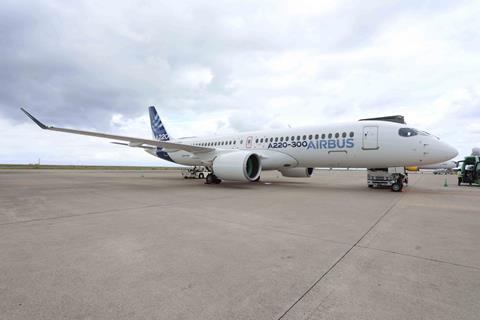 Airbus tells Cirium that certification of the two seats as SFE is in progress, for service entry in 2023. The Z110i and Z600 will replace Safran's Slimplus and CC2 seats, respectively, which will be discontinued, the airframer says.
The Slimplus and CC2 are the only SFE seats currently available in the A220 catalogue. Collins Aerospace's Meridian economy and MiQ business seats are offered as buyer-furnished equipment (BFE) options, alongside the Z110i and Z600.
US start-up Breeze Airways has selected the Z110i and Z600 as BFE for both A220s and Embraer E-Jets entering service this year.
Safran says the airframer's new SFE selection "demonstrates the strong and trustful relationship binding Airbus and Safran Seats" on the A220. Noting the seats' availability on other aircraft types, Safran adds that the new Z110i and Z600 provide more efficiency in terms of weight, cost and functionality then their predecessors.
The Z110i's advantages includes a "reduced parts count for ease of maintenance and enhanced reliability", says Safran.
In January, Safran disclosed the Z110i's certification for the E-Jet family, for which the French manufacturer had until recently been the sole passenger seat supplier.
Provision of passenger seats for E-Jets and the A220 goes back to the time when Zodiac Aerospace supplied the equipment as a standalone company. Safran acquired Zodiac in 2018 after a period in which quality and supply issues had affected interior equipment on multiple aircraft programmes.
Safran acknowledged the issues and outlined restructuring efforts to address them. During a financial results briefing in February, Safran chief executive Olivier Andries said all equipment had been delivered "on time and on quality" in 2020. "Customer confidence is back," he declared.
Updated to clarify that the certification effort mentioned by Airbus relates to SFE