Wichita-based aerostructures manufacturer Spirit AeroSystems lost $156 million in the third quarter of 2020 amid tumbling revenue resulting from the dual pressures of the pandemic and Boeing 737 Max grounding.
By comparison, the company earned a $131 million profit in the same period of 2019.
The third-quarter loss adds to losses of $163 million in the first quarter and $256 million in the second quarter, leaving Spirit $574 million in the red for the first nine months of 2020.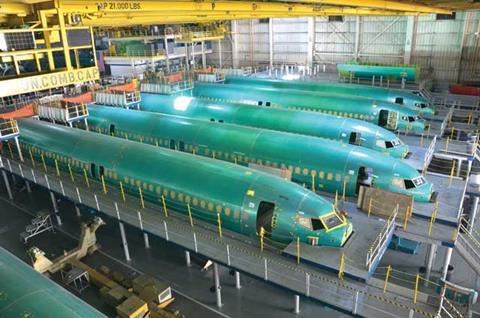 Still, chief executive Tom Gentile strikes an optimistic tone.
"We have made substantial progress on stabilising our liquidity position and driving cost-reduction actions to align with lower levels of production resulting from the Max grounding and Covid-19 pandemic," he says.
The 737 Max grounding and pandemic-related issues are among factors that pushed Spirit's third-quarter revenue down 58% year on year, to $806 million.
The aerostructures company shipped just 15 737 fuselage sets in the period, down from 154 shipped in the third quarter of 2019.
All Spirit's business units – fuselage, propulsion and wing systems – logged notable financial declines.
The fuselage business lost $96.7 million in the third quarter, while the propulsion business lost $15.6 million and the wing business lost $23.2 million, Spirit says.
Spirit shipped fewer products for all civil aircraft models in the third quarter. It supplied components for 69 Boeing jets and 133 Airbus jets in the period, down from 220 and 200, respectively, in the third quarter of 2019.
But Gentile stresses that Spirit has shored up its finances, noting the company recently raised $900 million in capital, sacked a planned $420 million purchase of Belgian aircraft component maker Asco and secured a $225 million discount on the purchase of Bombardier's aerospace assets.
The combined effect of those efforts "improves our cash position and enhances our ability to address future challenges", Gentile says.
Spirit acquired the Bombardier businesses on 30 October for $275 million.
"The Bombardier acquisition also accelerates our strategic transformation by securing a significant amount of Airbus work, boosting our aftermarket business and enhancing our competitiveness with the addition of low-cost operations in Morocco," Gentile says.
Spirit ended the third quarter with cash and cash equivalents valued at $1.4 billion, down from 2.4 billion at the end of 2019.