Aerospace supplier Triumph Group this week progressed with a plan to divest its aerostructures divisions, saying it has signed deals to sell business-jet work to Gulfstream and composite-manufacturing facilities to a private equity company.
Triumph, based in Pennsylvania, is also working to bolster its cash reserve with $700 million in new debt.
The supplier said this week it signed an agreement to sell to Gulfstream a range of work related to that company's G650 business jet. The work includes G650 supply chain management, engineering, tooling and facilities, Triumph says.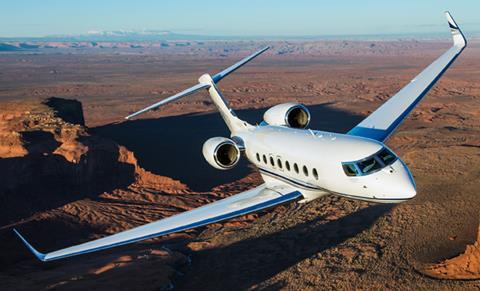 It does not disclose the sale price and says the deal will close "in the next few weeks".
The move follows other divestitures by Triumph of G650-related work, which it acquired from Spirit AeroSystems in 2015. In 2019, Triumph transferred G650 wing work from its Tulsa site to Gulfstream's Savannah facility, but had retained its role as supply chain integrator.
Also this week, Triumph says it signed an agreement to sell composites production sites in the US state of Georgia and in Thailand to private equity company Arlington Capital Partners.
Those sites employ some 600 workers and make structural and engine components for aircraft including Airbus A320s, A330s and A350s, Boeing 777s and 787s, and G650s and G700s.
Triumph also does not disclose that deal's sale price. It expects the sale will close by the end of September.
News of the divestitures came the same week Triumph reported a $277 million loss in the three months ending in June – the first quarter of its 2021 fiscal year.
Triumph which manufactures structures, components and systems for a broad range of aircraft, reports that sales in the period slipped 32% to $495 million.
To bolster its cash reserves, Spirit on 5 August said it expects generate $700 million through a new-debt issue planned to close on 17 August.
Triumph ended June with cash and cash equivalents valued at $30.9 million, down from $485 million at the beginning of the three-month period.
Despite the rushing outflow of cash from Triumph's coffers, financial analyst Ken Herbert with Canaccord Genuity predicts Triumph "will not face a liquidity crisis" owing to the "accommodative nature of the credit markets".
Triumph's pending sales follow its 2019 announcement of a plan to divest its aerostructures businesses. The company intends to focus more acutely on its "core systems and product support markets" – work that includes manufacturing of aircraft systems.
As part of the refocus, Triumph in early 2019 sold to Bombardier work related to that airframer's 7500 business jet.