Bangkok Airways has followed other major Thai airlines by reporting a massive operating loss in its second quarter, with the carrier particularly hard hit by the collapse in international visitors.
Operating losses for the three months ended 30 June ballooned to Bt2.6 billion ($83 million) from an operating loss of Bt530 million a year earlier, says the airline.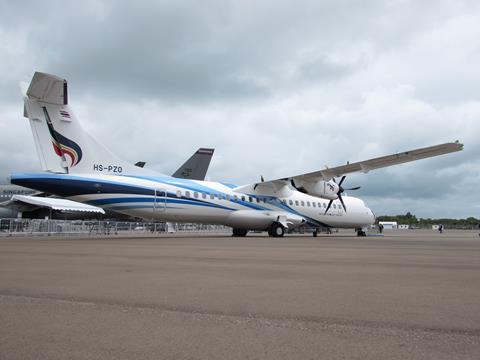 Total revenues fell 83% to Bt1 billion, with revenue from passenger fares declining to B107 million from Bt4 billion in the second quarter of 2019. Net losses jumped to Bt3 billion from Bt698 million in the second quarter of 2018. Expenses fell 43.9% to Bt3.7 billion.
The company's cash situation has also deteriorated markedly. Cash and cash equivalents stood at Bt2.9 billion on 30 June, down from Bt5.3 billion 31 December 2019.
The airline notes that the number of international tourists in Thailand fell to zero during the quarter owing to the Civil Aviation Authority of Thailand's decision to stop air travel to the country from April. The move was made in an effort to prevent covid-19 transmission from overseas arrivals.
From 7 April to 15 May the airline suspended all flights owing to government restrictions, but since 15 May has restored some services to Koh Samui, Chiang Mai, and Sukothai. For the quarter, the number of passengers carried fell 97.8% with load factors down to 47.3%.
ASKs and RPKs fell 98% for the second quarter, with the airline flying 28,500 passengers during the period, down from 1.3 million during the same period in 2019.
Aircraft utilization fell to just 2.2hrs daily, compared with 8.2hrs in the second quarter of 2019. While RASK jumped to Bt18.1 from Bt3.1 a year earlier, CASK skyrocketed to Bt65.78 from Bt3.65.
The collapse in visitors to Thailand is an existential problem for Bangkok Airways, which focuses almost exclusively on the tourism market. In a 2018 interview with Airline Business, then chief executive Puttipong Prasarttong-Osoth said about 80% of the carrier's passengers are codeshares from other carriers – he has since become the airline's president.
Bangkok Airways, which has eschewed joining a global alliance, has codeshare partnerships with 33 airlines, which generates feed at Bangkok Suvarnabhumi for its fleet of 40 narrowbodies and turboprops.
As with the global industry, it has been an extremely challenging year for Thailand's carriers. Thai AirAsia parent Asia Aviation recently announced that operating losses for the second quarter more than doubled to Bt1.8 billion.
Thai Airways saw first half operating losses more than double to Bt18.3 billion in the first half of the year, compared with a loss of Bt7.94 billion in the first half of 2019.
After reporting a loss of Bt4.4 billion in the first quarter, Nok Air has asked if it can delay releasing its results for two weeks until 31 August. One reason it cited for the delay is the demise of unit NokScoot, which filed for liquidation on 29 July.
Both Thai and Nok have sought the greenlight to undergo a rehabilitation process under the auspices of Thailand's Central Bankruptcy Court.