The four Chinese airlines currently operating scheduled passenger services to the USA may double their services to eight weekly round-trip flights, according to the US Department of Transportation.
"This aggregate level of service is equivalent to the total number of flights now permitted by the Chinese aviation authorities for US carriers," the DoT said in an 18 August statement.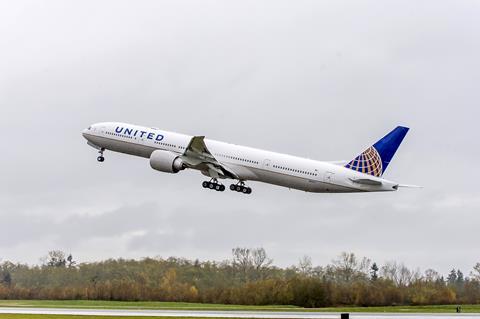 It adds that as of 12 August, the two US carriers operating scheduled passenger services between the USA and China, United Airlines and Delta Air Lines, had qualified for additional flight frequencies from the Civil Aviation Administration of China (CAAC). Accordingly, the two carriers were granted operating permissions from the CAAC on 17 August to increase their respective frequencies from twice weekly to four times weekly.
United said in an 18 August statement that it will increase service to China from two to four weekly flights between San Francisco and Shanghai Pudong via Seoul Incheon. Beginning 4 September, the Chicago-headquartered airline will operate four weekly flights with a Boeing 777-300ER on Wednesday, Fridays, Saturdays and Sundays.
"United has served mainland China for more than three decades and we look forward to continuing to connect customers traveling between the US and Shanghai with two additional flights beginning in September," said Patrick Quayle, United's vice president of international network and alliances.
In July, United began operating twice-weekly service between San Francisco and Shanghai via Seoul. Before the Covid-19 pandemic, United operated five daily flights in 2019, between Shanghai and its hubs in San Francisco, Los Angeles, Chicago and Newark Liberty International airport.
Delta said in a statement that "in response to high demand", it would add one weekly flight each from Detroit and Seattle to Shanghai, via Seoul-Incheon, beginning 24 August. The two additional flights will be available for sale online this week, the airline adds. However, near-term seat availability "remains limited due to restrictions on the number of flights we are authorised to operate to China as well as seat capping measures".
Political tensions between the USA and China over various issues have been escalating in recent months. Part of that souring of relations has included tit-for-tat action over air traffic rights.
In June, the DoT banned Chinese airlines from flying to the USA from the middle of that month. This was in retaliation for a Chinese order that US officials said effectively prohibited US carriers from resuming China flights.
In May, Delta and United applied to the CAAC to resume numerous passenger flights between the countries, having suspended the routes earlier in 2020 due to the Covid-19 pandemic.
The US DoT said its order to allow more flights indicates its "willingness to further revisit our action should the Chinese aviation authorities adjust their policies to bring about the necessary improved situation for US carriers in which both they and the Chinese carriers could fully exercise their bilateral rights."