Canada's WestJet is reinstating numerous domestic and international routes ahead of the "highly anticipated" summer holiday travel season.
The Calgary-headquartered company says on 14 March it plans to fly 94% of its pre-pandemic schedule in the coming months, with more than 600 daily departures.
"The aviation industry is a formidable economic engine and the investments we have made across Canada and internationally affirm our commitment to restoring connectivity across our expansive global network, while doing our part to expedite Canada's economic recovery," says John Weatherill, the airline's chief commercial officer.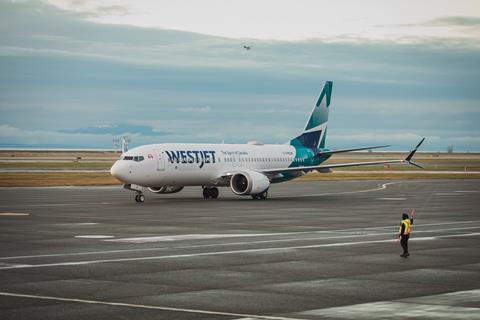 The airline will operate flights to 43 domestic, 23 US, 16 Caribbean and eight European destinations from May. It will fly non-stop to Europe from Calgary, Vancouver, Toronto and Halifax. It will also launch a new daily service between Toronto and Chicago beginning on 19 May.
The routes from Atlantic Canada are especially important to the carrier's east-coast and Europe operations. It suspended those destinations early in the pandemic.
"These routes create a substantial visitor pipeline from Europe and demonstrate WestJet's commitment to re-establishing Halifax as our Atlantic gateway hub, which is critical for the region's economic recovery, adds Weatherill.
WestJet will fly from Halifax to London Gatwick, Dublin, Glasgow and Paris beginning on 1 May. It will restore numerous domestic routes from seven cities in the region – Halifax, St John, Sydney, Deer Lake, Moncton, Fredricton and Charlottetown.
In November 2020, WestJet cut 80% of its seats – or 100 flights – in the Atlantic provinces as the fallout from the coronavirus pandemic and ensuing strict travel restrictions hit the carrier hard. The company suspended operations completely to Moncton, Fredericton, Sydney and Charlottetown, while significantly reducing service to Halifax and St John's and Quebec City.