Boeing is to open a second surge line for 737-800 freighter conversions at its facility near London Gatwick airport.
The company has already commenced work to modify aircraft on its initial line at the UK hub.
"We're opening a second surge line in Gatwick," says Kate Schaefer, vice-president for the US airframer's freighter conversions business.
Conversion work on the new line will start in November.
"We are staying on the front foot to ensure customers can take on-schedule delivery of their converted freighters," Schaefer adds.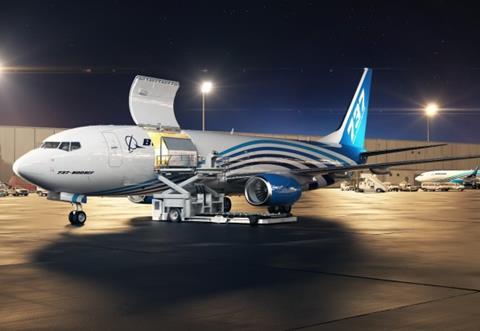 Boeing recently initiated the first Gatwick line, inducting the first aircraft for Icelandic lessor Icelease.
The line is located at its £100 million ($118 million) maintenance facility which was completed shortly before the onset of the pandemic.
Irish-based ASL Aviation Holdings is also set to receive 737-800s converted into freighters at the facility.
The modification involves installation of a large cargo door, and refitting the interior, to create a freighter with a payload capability of more than 23t.
"For many customers the [Boeing Converted Freighter] emerged at a critical juncture, the global shift to e-commerce models coupled with the necessity for new supply-chain options," says Schaefer.