Hydrogen-electric propulsion specialist ZeroAvia is to develop a powertrain for Otto Aviation, which has been test-flying a prototype of its low-emissions Celera 500L aircraft.
ZeroAvia says it will collaborate with California-based Otto to integrate the ZA600 zero-emission powertrain on the type.
It says the tie-up means the Celera could be "the first new airframe design" to capitalise on zero-emissions propulsion for launch models.
Otto Aviation chief William Otto says the collaboration project will help "realise the commitment" the company has made to bring down operating costs and the impact on the climate.
The Celera 500L has a push-prop configuration and utilises aerodynamic features including laminar-flow surfaces for the fuselage, wings and empennage.
This enables a low fuel-burn for the aircraft which, according to Otto, has a range of some 4,500nm and a cruising speed of 390kt.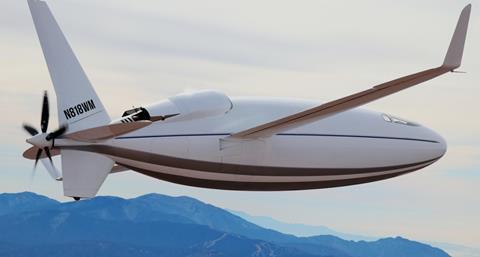 "The manufacturing detail delivers cruise efficiencies unmatched by conventional aircraft while offering a clean-sheet design that will completely alter the way people and parcels travel," claims Otto, which adds that its test-flight programme has been "promising".
ZeroAvia's ZA600 powertrain is intended for certification on aircraft up to 19 seats by 2024. The company has been converting a pair of Dornier 228s to test the powerplant, and expects the first flight "in the coming weeks".
It states that the Otto Celera, which is being developed as a six-seat aircraft, is scalable to 19 seats.
The fuselage design is "highly-conducive" to accommodating "large volumes" of hydrogen to power the zero-emission engine, it adds, enabling it to achieve 1,000nm of range.
"Long-range hydrogen-electric aircraft such as Celera will play an important role in eliminating all climate impacts of aviation," says ZeroAvia.