United Arab Emirates composite aerostructures specialist Strata has formally handed over its first 787 vertical fin shipset to Boeing, marking the first time the component has been assembled outside the USA.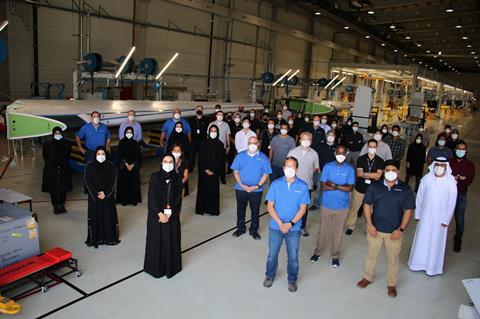 In a ceremony on 15 December at the Al Ain plant, Boeing Middle East president Bernie Dunn praised the subsidiary of Abu Dhabi state investment house Mubadala for having gone from a "concept on paper to a tier one supplier" in 10 years.
The 787 fin is manufactured in a new dedicated area of Strata's factory next to Al Ain airport. The assembly line employs 47 people, 40% of whom are UAE nationals.
Strata, which was established in 2011 as the Gulf region's first aerospace manufacturer, is also responsible for empennage ribs for both legacy 777s and the new 777X. It also builds inboard flaps on the Airbus A350-900, as well as ailerons, flap track fairings and spoilers for all A350s. Among its other work, it manufactures ATR rudders and vertical fins for first-tier supplier Dema in Italy, and belly fairings for the Pilatus PC-24 twin-engined light business jet.