The Royal Australian Air Force (RAAF) recently took delivery of its first upgraded Lockheed Martin C-130J Super Hercules.
The aircraft's hardware and software were upgraded to the Block 8.1 standard, and it recently arrived at RAAF Base Richmond, says the Australian Department of Defence (DoD).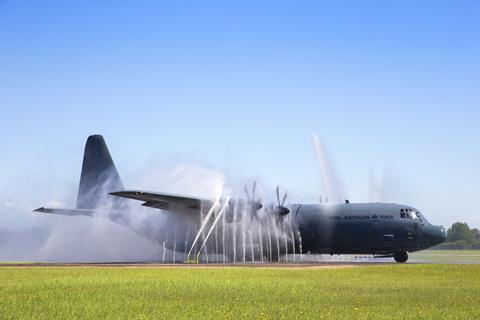 The upgrades include changes to navigation systems that improve accuracy during landing, particularly during operations in remote regions, including the delivery of cargo to a drop zone.
Block 8.1 complies with worldwide air traffic regulations, and introduces updated identification friend-or-foe systems, which are necessary for coalition operations.
The upgrade work took place in the USA, with assistance from Lockheed and the US Air Force. The RAAF's other 11 C-130Js will be upgraded by Airbus Australia Pacific at RAAF Richmond.
The first local upgrade is already underway, with the fleet to be upgraded as they come due for major scheduled maintenance.
"Block 8.1 will make it easier for crews to operate the Hercules in a range of complicated environments, from civilian airspace around airports through to airfields on the frontline," says Group Captain James Badgery, commander of the Air Lift Systems Program Office.
"Hercules crews have often been first on the scene during times of crisis, evidenced by the support delivered during the Kabul Airlift in August, and Block 8.1 will ensure the fleet can continue flying these operations safely."
Separately, on 17-18 January the RAAF dispatched a pair of Boeing P-8A Poseidons and one C-130J to conduct aerial surveillance over the Pacific nation of Tonga, to help determined the extent of damage caused by the eruption of an underwater volcano on 15 January.
"The Government of Tonga requested the flights to help determine the extent of the damage, particularly in more remote locations, and inform their future disaster support requests," says the DoD.