Europe's ambitious Eurodrone programme has cleared the final hurdle prior to its formal launch, with Spain's council of ministers on 25 January giving its delayed approval to participate in the multinational effort.
"Budgetary approval by [Spain's] council of ministers for the Eurodrone, which follows that of Germany, France and Italy, paves the way for contract signature on this key collaborative programme, which strengthens Europe's strategic autonomy and sovereignty," says Airbus Defence & Space chief executive Michael Schoellhorn.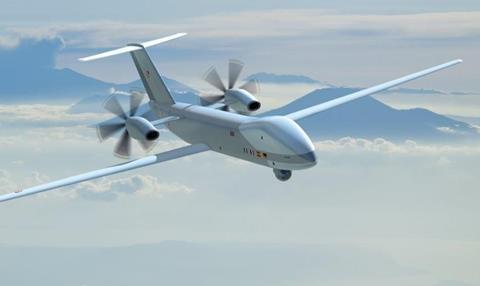 Airbus Germany will lead development activities on the medium-altitude, long-endurance unmanned air vehicle (UAV), including performing final assembly at its Manching site near Munich.
Other leading companies involved in the Eurodrone activity include Airbus Spain, Dassault Aviation and Leonardo. Madrid's industrial involvement will include design and production of the UAV's fuselage and empennage, and responsibility for its propulsion system.
With a maximum take-off weight of 11t, the twin-engined platform will be capable of carrying a 2.3t payload, including a variety of sensors and air-launched weapons. To receive civil certification, the UAV will have a top speed of 270kt (500km/h) and a maximum endurance of 18-40h, depending on its payload and mission profile.
Speaking during Airbus Defence & Space's online trade media briefing last November, Eurodrone chief engineer Daniela Lohwasser said a preliminary design review for the approximately 30m (98ft)-wingspan aircraft will take place 18 months after the signature of a launch contract via Europe's OCCAR defence procurement agency.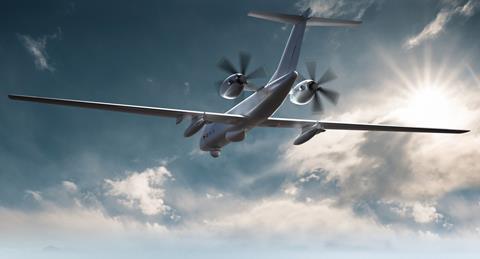 First flight of the twin-turboprop aircraft is scheduled to occur 62 months after contract signature, Lohwasser says. Two undisclosed engine solutions are in contention for the programme – thought to be the GE Aviation Catalyst and Safran Helicopter Engines Ardiden 3TP – with a selection decision to be announced following its formal launch.
Current commitments call for the four launch partner nations to acquire a combined 20 Eurodrone systems; each comprising three air vehicles and supporting ground infrastructure.