Porter Airlines received the first two of its 50-strong order of Embraer E195-E2s during a ceremony at Embraer's headquarters in San Jose dos Campos on 21 December.
Toronto-based Porter plans to use the E195-E2s to spearhead its North American expansion with yet-to-launch routes to western Canada, the US, Mexico and the Caribbean.
Porter has firm orders for 50 E195-E2s and purchase rights for 50 more, for a total list-price value of $7.38 billion if all options are exercised.
On 15 December, Transport Canada certificated the E190-E2 and E195-E2, clearing the way for the jets to be handed to Porter.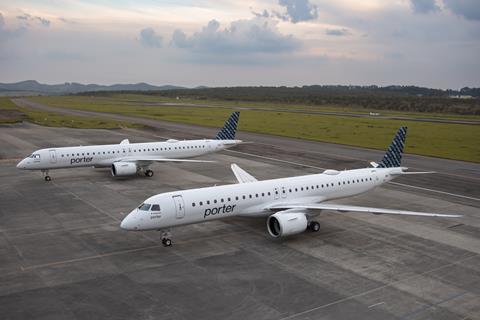 The Pratt & Whitney PW1900G-powered twinjets can carry 146 passengers but have 132-seat economy configurations, Porter says. Arjan Meijer, CEO of Embraer Commercial Aviation, notes that Porter's seating configuration lacks "the dreaded middle seat".
"Porter is focused on delivering what we all want – making the air travel experience a pleasure rather than a pain," he says.
The jets will fly to Toronto before year's end and enter regular service in February 2023, allowing Porter to roll out flights that month from Toronto Pearson International airport to Calgary, Edmonton and Vancouver – its first routes to western Canada.
"The official delivery of these aircraft is the beginning of a new era for Porter," says Michael Deluce, Porter's chief executive. "The E195-E2 enables us to reach across the continent, beyond our eastern Canada roots, while introducing a level of service for economy air travellers that no other North American airline provides."
The E195-E2 is quieter and more fuel efficient than older generations of single-aisle aircraft, according to Embraer. "It has the lowest fuel consumption per seat and per trip among 120- to 150-seat aircraft and is the quietest single-aisle jet flying today," Meijer says.
Based at Toronto's secondary airport Billy Bishop Toronto City, Porter currently operates a fleet of older 29 De Havilland Dash 8-400 turboprops.