The National Business Aviation Association conference and exhibition is back for the first time in two years. However, BACE – which returns to the USA's fun capital, Las Vegas – will take place from 12-14 October against the backdrop of a fast-spreading Delta variant that has slowed the country's impressive economic recovery from the Covid-19 crisis, and has already caused another major exhibition taking place next to BACE to be cancelled.
The USA's bar on travel from many parts of the world, including Europe, will also have an impact on attendance at the sector's biggest gathering. While the annual event caters for a largely US-based audience – the domestic business aviation market is roughly the same size as the rest put together – it does attract visitors and exhibitors from dozens of countries. Most of them will be unable to attend this year.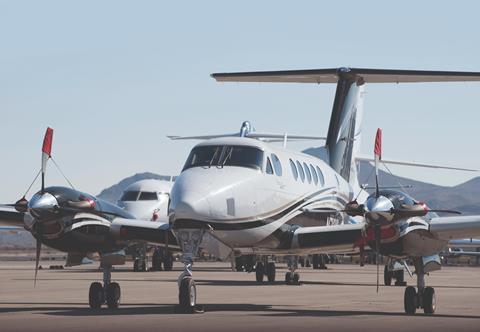 At the same time, business aviation seems to have shrugged off any negative effects from the pandemic. Traffic levels – especially in the USA – have returned to 2019 levels, and in some cases improved on them, as those who can afford it have shunned the premium cabins of commercial airliners for what they perceive as the more secure confines of a business aircraft.
The health of the sector is reflected in the latest figures from the General Aviation Manufacturers Association, which reported a 16.8% increase in total aircraft deliveries to 1,050 units in the first half of 2021, compared with the same period in 2020 (bearing in mind that the first two months of last year were unaffected by Covid-19 restrictions). The amount billed rose 9.4% to $8.6 billion, suggesting that manufacturers were not having to discount too heavily to achieve these sales.
While business jet shipments were up 8.2% in the first half of this year, those of turboprops were 45.4% higher. Helicopter deliveries rose by 37.7%. While these figures include aircraft being deployed not just for business travel – such as medevac or law enforcement – they indicate an industry brimming with enough confidence to invest in new equipment from the airframers themselves, and also from the long supply chain.