Few companies in private air travel can take the temperature of the market as quickly and effectively as Jet Aviation. The Swiss-based service provider, part of Gulfstream parent General Dynamics since 2008, has operations on four continents, and across four distinct activities: maintenance, aircraft management and charter, fixed-base operations, and large-jet completions. Its 2018 acquisition of Hawker Pacific added a fifth: air force sustainment.
The company makes money when business aircraft are in the air and in the hangar for servicing, when they are at the airport taking on passengers, and having interiors created before delivery. This diversity has been a strength over the past 20 months, states president David Paddock: "We are the only true, full-service global business aviation company. That, and the backing of our owner, has given us the ability to navigate Covid better than others."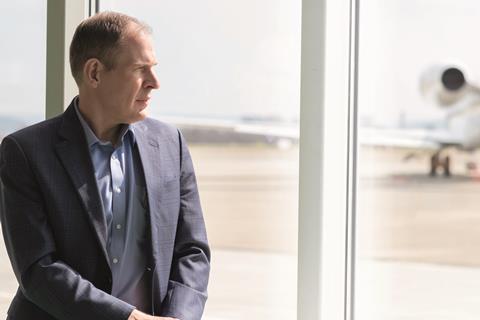 The range of services and worldwide operation across more than 50 sites means that "regardless of where a customer travels, they are recognised as a Jet Aviation customer," says Paddock, an almost 15-year company veteran, who has been in the top job since 2019. He cites the example of a customer in Saudi Arabia. "We do maintenance for them there, but they also go everywhere, so they need AOG [aircraft on ground] support, they need handling, they sometimes need charter," he says.
While maintenance is Jet Aviation's largest business by revenue, the area Paddock sees as having major growth potential, and which it is emphasising at BACE, is aircraft management. "There is a tremendous opportunity there, and you will see more from us on that front," he says. Jet Aviation has more than 300 aircraft under contract, a total boosted by its July acquisition of Luxaviation's Swiss management and charter division. That added 17 aircraft to its European fleet.
While he admits it is a competitive field, charter remains "a significant and core business" for Jet Aviation, with its aircraft flying more than 10,000 charter hours a year, says Paddock. What differentiates Jet Aviation in this market, he says, is that almost the company's entire fleet is managed on behalf of third-party owners, so Jet Aviation is directly responsible for the care of the aircraft it is chartering.
Jet Aviation is also a significant global player in another highly contested market – FBOs – where it is ranked number three with 32 sites, across the USA, Europe, the Middle East and Asia-Pacific. It recently opened FBOs in Bozeman, Montana, and Scottsdale, Arizona, while Hawker Pacific brought it a network in Australia. Meanwhile, the Luxaviation Swiss deal came with ExecuJet's Zurich FBO, which added two hangars to Jet Aviation's existing operation in the Swiss commercial capital.
Paddock admits there are holes in the FBO portfolio. The company pulled out of Brazil when the economy there hit difficulties a decade ago, and since then has had no presence in Latin America. Around the same time, it also exited the UK, where it had a site at London's Biggin Hill. Another gap is Paris Le Bourget, Europe's busiest business aviation hub. Paddock says all these territories are under consideration for new FBOs, along with growing US markets, such as Austin, Texas and Miami, Florida.
One of Jet Aviation's best known activities is large aircraft completions, where it is one of a handful of players in the world in this highly specialised market. Paddock says this part of its business has been "competitive but fairly active". Its complex at Basel, Switzerland is full with four aircraft currently in the hangar. Two others are on the way, and "we are actively pursuing another couple of opportunities", he says.
In May, Jet Aviation delivered its first VVIP-configured 737 Max, believed to be the first corporate version of the re-engined narrowbody to go into service. Although the customer was not disclosed, an illustration provided by the company showed a Cayman Islands registration. In August, the company also announced it had finished the extension and renovation of a production centre at Basel, bringing its cabinet, interiors, sheet metal and finishing shops together for the first time.
Like most companies in business aviation, the first few months after Covid emerged in early 2020 was challenging for Jet Aviation. The grounding of many aircraft stalled maintenance visits, and other difficulties ranged from Singapore's virtual shutdown that made it difficult for pilots to fly into the maintenance hangars at Seletar airport, to border controls that made it hard for French workers to cross to their job at Basel, just over the border in Switzerland.
Paddock says that when the pandemic hit, the company had a full maintenance backlog, and that helped keep facilities running at close to capacity during the period. Since then, recovery has been healthy, but "uneven in different parts of the world", he says. While the US market has been trending ahead of 2019 levels since May this year, and Europe and the Middle East are beginning to bounce back, Asia still "lags", with business aviation activity significantly down on two years ago.
Although Paddock says Jet Aviation's ownership by one of the world's biggest aerospace and defence companies is a plus, Jet Aviation will remain platform agnostic. "Our policy is that we put the focus on customers first, not the type," he says. "We have numerous clients who operate mixed fleets, and we want to provide the best service to all of them. We have a very good relationship with our sister company, Gulfstream, but that will never be to the detriment of operators of any other type."