Las Vegas Henderson airport-based Thrive Aviation has signed a deal for three more Textron Aviation Citation Longitudes at the NBAA show.
First delivery will be in December, with Textron saying the order will boost Thrive's fleet of Citations to 15. The company already operates Cessna Citation Longitude, Sovereign+, XLS+, CJ3+ and M2 types.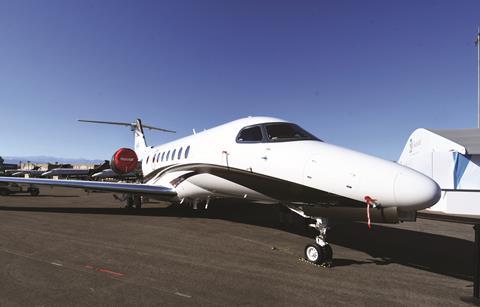 "Our relationship with Thrive continues to grow," says Lannie O'Bannion, senior vice-president, global sales and flight operations at Textron.
"As they expand their operations, the Longitude will provide the lowest direct operating cost of any super-midsize jet."
Thrive says that the private jet landscape has changed in the past 18 months, and that it has more than doubled its fleet during that time.
"With the addition of three more Longitudes to our fleet, we are better equipped to serve our growing demand nationwide," says Scott Musselwhite, Thrive's senior vice-president of commercial aviation.
The Longitude was launched at BACE in 2015, and certificated in the USA in September 2019. The jet is the largest in the Cessna Citation series, and seats 12. It has a range of 3,500nm (6,480km) and is powered by FADEC-equipped Honeywell HTF7700L turbofan engines.